统计学专业英文简历
  下面是统计学专业学生的英文简历参考,欢迎借鉴。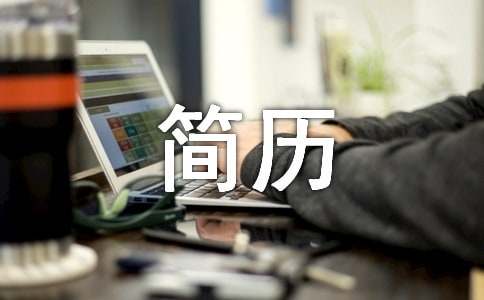 【统计学专业英文简历一】
  Basic information:
  Name:****
  Sex: Female
  Date of Birth :1984-06-25
  National: Han
  Height: 1.66cm
  Account where: Hebei Baoding
  Current: Hebei Baoding
  Graduate institutions: Shandong Institute of Finance
  Political landscape: the Chinese Communist party members
  Highest level of education: undergraduate
  Repair by a professional: Statistics
  Talent type: fresh graduates
  Job search intention:
  Job type: Full-time or part-time
  Position: statistics or audit-related jobs; financial categories, marketing
  Hope Location: Beijing or Hebei
  Wish to pay: Negotiable
  Education and training experience:
  From September 2003 to July 2007, Shandong Institute of Statistics Undergraduate Financial
  Experience to participate in social practice:
  1,2004-09 to 2004-10 under the guidance of the teacher ratings of the television households in research by the teachers;
  2,2004 Jean in UnionPay bank card into the campus activities, and actively participate in social practice, and understanding of ATM and POS
  The use of machines.
  Received awards:
  The first semester of the 2003-2004 second-class scholarship
  The first semester of the 2004-2005 second-class scholarship
  The second semester of third-class scholarship
  2005-2006 first semester second-class scholarship
  The second semester of first-class scholarship
  2003-2004 as "colonel Miyoshi students"
  Language Proficiency:
  Familiar with the English level: 6 countries
  Standard Mandarin
  Computer capability:
  1, the national three-tier network technology
  2, State 2 Visual FoxPro
  3, skilled application to Eviews, SPSS, SAS data analysis software to solve practical problems;
  4, able to issue strict system of analysis and clarity of analysis to write reports, make a statistical prediction and decision-making; particularly
  Its use of professional statistical analysis software for data processing and analysis.
  5, able to skillfully use a variety of office automation software, word, excel, powerpoint, access, etc.
  Self-evaluation:
  Honest, industrious, strong adaptability to the environment and the teamwork spirit, full of strong sense of responsibility of the job, full of patience practical work. With strong theoretical knowledge of the professional, firm and practical ability, and can make their own professional field of view.
  【统计学专业英文简历二】
  Name: CN人才网
  Gender: FEMALE
  Date of Birth: 1977/12/30 Residency: GUANGZHOU
  Work Experience: >8 years Hukou: GUANGDONG PROVINCE
  Current Salary: 30,000-40,000 RMB /Year
  Address: GUANGZHOU
  Zip Code: 510000
  Email:
  Mobile:
  Work Experience
  2001/10--2007/05: Italy Dezan shira & Associates Ltd.
  Industry: Accounting, Auditing
  law Dept. Finance/Accounting Assistant
  1)Calculating the taxable payment of the client's company and filling the taxable report;
  2)Calculating the taxation and filling the tax-fileing form;
  1999/06--2001/10: Japan TERASAKI Electric(China)Ltd.
  Industry: Accounting, Auditing
  financil department Finance/Accounting Assistant
  1)Calculating the taxable payment of the client's company and filling the taxable report;
  Education
  2005/09--Present University of Business and Economics Accounting Bachelor
  1996/09--1999/09 college of logistics in airforce Finance/Banking Associate
  Language Skills
  English EXCELLENT
  I'm so well educated with a solid foundation in major area that I'm confident to do well in future work.I can adapt myself to circumstances as soon as possible.
    【统计学专业英文简历三】
  Basic material
  Name: CN人才网 sex don't: female
  Date of birth: 5-30 marital status: single
  People family: the han nationality political affiliation: member
  Body high: 159 cm body weight: 45 kg
  Self evaluation
  I am a quick mind, calm and steady personality, when anything crops up calm. And have a strong team spirit and learning ability, can treat their living and working, good sense of service and highly responsible attitude. Believe in my work enthusiasm, will your company to do my best to do the best. My motto is: where there is a will there is a way, believe you are the best. Hope that your company can give me a stage to display talent, I attentively effectiveness for your company, to achieve double surplus!
  Work experience
  March 2011 - now: chongqing paramagnetic bo aluminium alloy co., LTD
  The company properties: private enterprise by sector: geological exploration/mining/smelting industry
  Department: material as the department of position: material statistics
  Job description: the raw material purchases, arrived, outstanding reports, inventory report, at the end of inventory, monthly and financial reconciliation, compile statistics.
  Job objective
  Job: financial/audit/statistics/financial position properties: full-time
  Industry category: geological exploration/mining/smelting industry metal products (hardware) industry car/motorcycle and other transport electronic technology business trade/logistics warehousing/broker agency salary requirement: negotiable
  Work areas: chongqing longevity area to duty time: within 1 week
  College chongqing vocational college of finance and economics and commerce accounting
【统计学专业英文简历】相关文章:
专业英文简历03-05
统计学专业论文参考文献范文08-30
外贸专业英文简历03-03
园林专业英文简历02-23
酒店专业英文简历02-22
机械专业英文简历模板03-31
桥梁道路专业英文简历03-03
商务专员专业英文简历02-28
英文简历学校专业格式12-31
数学系专业英文简历03-03