【精华】英文求职信模板锦集九篇
  光阴的迅速,一眨眼就过去了,我们找工作的时间越来越近,让我们一起来学习写求职信吧。你知道写求职信需要注意哪些问题吗?以下是小编为大家整理的英文求职信9篇,仅供参考,欢迎大家阅读。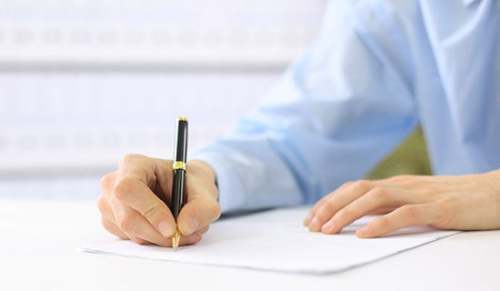 英文求职信 篇1
dear sirs,
  ease allow me to apply for the position of office clerk which you advertised in "yangcheng evening news" of april9.
  am28years of age and unmarried. after receiving my . from xiamen university, i worked for three years as an office clerk at china great wall computer group (shenzhen) company.
  r the last two years i have been a secretary to the general manager of haicheng foodstuffs company, ltd. in shenzhen. i am looking for a position of office clerk to increase my experience in business.
  have a wide knowledge of business and thoroughly experienced in all types of office work. copies of my testimonials are enclosed, and if you are interested in my application, please give me an opportunity of a personal interview at your convenient date.
英文求职信 篇2
  April 13,20xx
  Room 212 Building 343
  Tsinghua University,Beijing 100084
  Ms. Yang:
  I was referred to you by Mr. Zhang, a Partner with your Beijing office, who informed me that the Shanghai office of your company is actively seeking to hire quality individuals for your Auditor Program.
  I have more than two years of accounting experience, including interning as an Auditor last year with the Beijing office of CCCC. I will be receiving my MBA this May from Tsinghua University. I am confident that my combination of practical work experience and solid educational experience has prepared me for making an immediate contribution to your company. I understand the level of
  professionalism and communication required for long-term success in the field. My background and professional approach to business will provide your office with a highly productive Auditor upon completion of your development program.
  I will be in the Shanghai area the week of April 16. Please call me at 136001216901 to arrange a convenient time when we may meet to further discuss my background in relation to your needs. I look forward to meeting you then.
  Sincerely,
  XX
  212楼343房间
  清华大学,北京100084
  杨女士:
  我是张先生和你北京办事处的合伙人,来找你的,他告诉我,贵公司的上海办事处正在积极地为你的审计师项目雇用高素质的人才。
  我有两年多的会计工作经验,包括去年在CCCC北京办事处担任审计师。我将于五月从清华大学获得工商管理硕士学位。我相信,结合实际工作经验和扎实的教育经验,我可以为贵公司做出直接的贡献。我理解
  专业和沟通需要在这个领域取得长期的成功。我的背景和专业的商业方法将在你的发展计划完成后为你的'办公室提供一个高生产率的审计师。
  我将在4月16日的那个星期在上海。请致电136001216901,安排方便时间,我们可以见面,进一步讨论我的背景,以满足您的需要。我期待着与您会面。
  真诚地,
  XX
英文求职信 篇3
  dear mr.xx,
  l am writing to apply for the post of accounts clerk adertised on the website
  i graduated at xxx college specialing business english .but after my graduation .i also worked in supermarket for three years as my
  partime job .because my language .it. keybard skills,l have chose the accounting assitant for xx my post.
  my vic-boss hope me join in their company totally,but i wanno use my technology to increase experience of my life .now,i think the post is what i pursure .i tattached my curriculum vitae .if you require any additional information,please do not to contact me.
  i look forward to hearing from you .yours sincerely,
英文求职信 篇4
  Good morning/afternoon, my name is xxx ,you can call me yanzi. I like the feeling flying in the sky like a swallow.
  It is really a great honor to have this opportunity for an interview, I would like to answer whatever you may raise, and I hope I can make a good performance today.
  Now I will introduce myself briefly. I am 20 years old, born in shandong province.I grow up in a sweet family,composed of my dad,mom,brother and myself. I am an optimistic and confident girl. I have full confidence in a bright future,and I believe I can do well in caac.Punctuality and diligence are crucial to most future careers,I will try my best. Altough i just graduated from school, I have confidence to venture my funture.
  Scoaring in the sky as an airhostess has been a dream for me since childhood, this is why i'm longing for a job on a plane, and this is why I'm standing here for this interview. I hope my application will be granted ,so that i will delive my best servies throughout the world as a airhostess member of caac and my dream can come ture.
  That's all. Nice talking to you .Thanks.
英文求职信 篇5
  1. I have been for over five years in the employ of an exporting company.
  本人曾经前后五年被受雇于出口贸易公司。
  2. I have been in the business for the last ten years, and worked as the superintendent in the personnel department.
  本人在过去十年在商界担任人事部主任迄今。
  3. I have had five years experience with a company as a salesman.
  本人曾在某一公司担任推销员,前后有五年之久。
  4. For the past three years, I have been in the office of the Brothers Trading Co., where I have been ad still am an accountant.
  本人曾经在兄弟贸易公司服务三年,担任会计工作,现仍在职中。
  5. I am twenty years of age, and have been employed for the last two years by the Green Trees Co., in teh general clerical work of the office.
  我今年20岁,曾于绿林公司服务两年,担任一般文员工作。
  6. I am 25 years of age, and have had two years experience in my present post, which I am leaving to better myself.
  我今年25岁,已在目前的职位工作两年,兹为寻找更上一层楼,准备离开此职位。
  7. I am nineteen years of age, female and have had two years experience in a companys delivery office.
  我今年19岁,女性。曾在某家公司担任收发工作两年。
  8. I am just leaving school, and am eighteen years of age.
  本人18岁,不久即可毕业。
  9. I am twenty years of age, and am anxious to settle down to office work.
  本人20岁,希望能找到一个公司,以便安定下来。
  10. Since my graduation from the school two years ago, I ahve been employed in teh Green Hotel as a cashier.
  两年前,自从离校后,在格兰酒店担任出纳员。
  叙述个人的能力 About Personal Ability
  1. I am a good accountant and have a thorough knowledge of the English language.
  我是一个优秀的会计员,同时深信对英文颇为熟练。
  2. For the past five years, I have been engaged as a correspondence clerk.
  在过去三年,本人一直担任对外书信主稿。
  3. I am able to take dictation in English and trancribe them rapidly into Chinese.
  我会英文的口授笔记,同时能立即将其改写成中文。
  4. For the past three years, I have served as a private secretary to Mr. T. Tang whom you know well, and whose public works have been heralded all over Hong Kong.
  在过去三年,本人一直担任唐悌先生的秘书。对于唐悌先生,阁下必定知悉,同时唐先生的事业早已为市民所熟知。
  5. Being well acquainted with office works, I could make myself generally useful, should there be any opportunity of your requiring my services.
  本人对公司一般业务非常熟悉。如有机会为贵公司服务,本人相信,对一般事务必能胜任愉快。
  6. I have received an English education, and have a slight knowledge of Spanish. I took a Spanish course in college.
  本人接受英文教育,同时略通西班牙文。大学时,我选修了一门西班牙文。
  7. I have been at the City Commerical College, where I have acquired a knowledge of English, mathematics and elementary business practice.
  本人曾在城市商专学英文、数学以及初级商业实务。
  8. I have just left school, but have a good knowledge of English.
  本人虽刚离开校门,但对英文颇有基础。
  9. I can write shorthand at the rate of 120 words per minute, and typewriting at 55 words English.
  本人能速记,每分钟速度为120字,英文打字则每分钟55字。
  10. I have received a good education, and know English, Spanish and shorthand.
  我曾接受良好的教育,熟悉英语、西班牙语以及速记。
  11. I have a fair knowledge of shorthand, and can write ninety words per minute.
  本人熟悉速记,每分钟速度90字。
  12. At school I won a schoarship and the first prize in speech contest.
  求学中,我曾获得奖学金及演讲比赛冠军。
  13. I am a graduate of Hong Kong University, and have in addition the M. A. degree from UCLA.
  本人毕业于香港大学,并在加州大学获得文学硕士学位。
  14. I am just over twenty-four years ofage and have left school about two months ago, during which time I have been striving to make myself proficient in shorthand, and typewriting, and have attained a speed of ninety and sixty words a minute respectively.
  本人刚满24岁,两个月前离开校门,求学期间努力于速记与打字,现在速记及打字各为每分钟90字与60字。
  15. Since leaving school, I have attended the Typewriting and Shorthand classes, and hve now attained a speed of fifty and ninety words respectvely.
  离开学校后,我参加速记与打字班,而今已达到打字50字,速记90字的速度。
  16. I am at present a trainee in the Liner Shipping Company.
  我现在大丸船运公司服务,任见习员。
  17. I am a graduate of Yu Da Commercial School, and hve recently completed the business course at the T. Unviersity of Commerce.
  本人毕业于玉达商校,日前即修完T大商业科。
  18. My education is as follows: A full, three year commercial course in the U-D High School. From this school I graducated with honour in June, 1975.
  我的学历如下:育达高中毕业,修完三年课程,商科,1975年6月从这个学校的商科毕业,成绩优等。
  19. I have a good knowledge of bookkeeping by double-entry.
  本人对联单记帐十分熟练。
  20. For all the time I was in their employ, I had the sole charge of their correspondence.
  在该公司服务时,本人负责全部对外通信。
  随函附寄物(附件) About Enclosure
  1. You will find enclosed an outline of my education and business training and copies of two letters of recommendation.
  有关本人的学历,工作经验等项的概要,谨同函呈上两件推荐函,请察核。
  2. Enclosed please find a resume and a photo.
  随函寄上简历表及相片各一份。
  3. I attach schedule of my qualification and experience.
  随信附上我的履历表。
  4. I am enclosing my curriculum vitae together with my photograph.
  随函附上履历表及近照。
  5. A copy of my transcript is enclosed.
  附寄成绩单一份。
  6. Enclosed you will find a letter of recommendation from my former teacher of English.
  随函附上我英文老师的推荐函。
  7. You can see from the data sheet that is enclosed that.
  你可以从附上的资料表上看出……
  8. I enclose a resume and one of my publications.
  随函寄上简历表及作品。
  关于薪金待遇 About Salary
  1. The salary I should require would be HK$6,500 per month as a start.
  待遇方面,本人希望月薪六千五百元起薪。
  2. I should require a salary of 4,500 a month to begin with.
  本人希望,月薪由四千五百元起薪。
  3. The salary I should require would be 60,000 a year, plus 1% commission on all sales.
  关于薪金,要求年薪六万元,同时希望获得售价1%的分红。
  4. The salary at which I should desire to commence is 10,000 dollars.
  本人希望起薪10,000元。
  5. The salary required is 12,000 per month, living in the house.
  希望待遇月薪一万二千元,另供应宿舍。
  6. I should require a commencing salary of 9,600 dollars a month.
  本人希望,月薪九千六百元起薪。
  7. I am quite willing to start with a small salary.
  起薪多少,本人并不计较。
  8. As regards salary, I leave it to you to decide after experience of my capacity.
  关于薪金,请考验本人的能力再作定夺。
  9. However, the matter of remuneration will take care of itself, as it always does, if other things are all right.
  不过,如其他条件具备,待遇问题,自会解决。
  10. I am willing to serve on trial for some months at a small salary.
  开始试用,本人愿以低微的薪金工作数月。
  说明离职原因 Reasons for leaving
  1. My reason for leaving my present employment is that I am desirous of getting broader experience in trading.
  本人离职的理由:希望在贸易方面,能获得更广泛的经验。
  2. my reason for leaving the company is that I wish to get into the advertising business.
  本人去职原因,是希望在广告业方面发展。
  3. I am leaving our office to be with my mother and care for my aged mother in a distant city.
  我为照顾住在远地的年老母亲,而申请辞职。
  4. My reason for leaving my present emplyment is simple because I see no chance of advancement.
  本人离职的理由是这样:本人深知无升迁的机会。
  5. I am desirous of leaving the office in order to gain more experience in an exporters office.
  本人希望在出口公司能获得更多的经验,故愿转职。
  6. I am desirous of leaving the employment in order to improve my position and have more responsiblility.
  由于希望获得更高的职位负更多的责任,而离开现职。
  7. I left them a fortnight ago, owing to a disagreement with the president Mr. Lau.
  由于本人与董事长刘先生意见不合,两星期前去职。
  8. I left the position with the sesire of improving my position.
  我为了找更高之职位,而请求去职。
  9. I left the office on acount of the discontinuance of the business.
  由于所服务的公司解散,只好去职。
  10. I left the company because I found a full-time job after graduation.
  毕业后因找到工作辞去兼职。
  11. The only reason why I am leaving the present position is I want an object to better myself.
  本人所准备离开目前的工作岗位,唯一理由是为谋求更高的职位。
  12. Unfortunately I have had to leave my position, as my employers ave been forced to lequidate their business due to the worldwide economic adversity.
  很不幸地,本人不得不离职,因这一次世界性的经济不景气,使我的雇主不得不结束业务。
  结尾:请求面谈及客套语 Ending: Request for Interview
  1. I should be glad to have a personal interview and can furnish references if desired.
  如获面试,则感幸甚,如需保证人,本人也可提出。
  2. I solicit the favor of an interview, and assure you that if appointed, I will do my best to give you satisfaction.
  恳请惠予面试之荣。如蒙录用,本人必竭尽所能,为贵公司服务,以符厚望。
  3. If you desire and interview, I shall be most happy to call in person, on any day and at any time you may appoint.
  如贵公司有意面试,本人一定遵照所指定的时日、前往拜访。
  4. Should you think favorably of my application, kindly grant me an interview.
  如对本人之应征优先考虑,恳请准予面试。
  5. Should you think favorably of my application, I would like to have an interview.
  如对本人之应征优先考虑,恳请惠予面试之机会。
  6. I hope that you will be kind enough to consider my application favorably.
  恳请惠予考虑本人之申请为盼。
  7. I trust that you will give this application your favorable consideration.
  本人相信,贵公司会将本人的申请给予考虑。
  8. Should you give me a trial, I will do my utmost to afford you every satisfaction.
  如有试用的机会,本人必尽力而为,以满足贵公司的要求。
  9. Should this application meet with your favorable consideration, I will do my utmost to justify the confidence you may repose in me.
  对此申请,贵公司如惠予考虑,本人将尽最大的忠诚与努力。
  10. I assure you that if my application be successful, I will do my very best to please you.
  假如应征成功,而能在贵公司服务,本人保证将尽所能为贵服务。
  11. Should you entertain my application favorably, I would spare no trouble to acquit myself to your satisfaction.
  假如应征获得青睐而进入贵公司服务,本人必以排除万难之决心,为贵公司工作,以符厚望。
  12. I wish to assure you that, if successful, I would endeavor to give you every satisfaction.
  如蒙不弃,惠予录用,本人将尽力服务,使诸事满意。
英文求职信 篇6
  274 Madison Avenue
  New York, NY 10016
  (212) 679-0139
  February 20, 20xx
  Mr. Richard K. Dean
  Richard Dean & Associates
  1490 Old Toll Road
  Madison, Connecticut 06443
  Dear Mr. Dean:
  Presently, I am concluding a public acquisition for private investors--I selected the prospect, structured financing and negotiated arrangements with previous management, but have declined the permanent CEO position. Instead, I desire to continue to enjoy the "Thrill of the Hunt" in locating, acquiring and building high technology organizations. Several associates have mentioned your firm often represents technology-driven companies with strong growth/acquisition goals, and I understand you are searching now for a CEO or Executive VP who will make your client money.
  My diverse background demonstrates exceptional officer-level sales, marketing, financial and leadership abilities in high tech areas:
  --The technical, management, and executive team I identified recruited and trained boosted corporate revenues from $11 to $100 million in only five years, increasing ROI by an astounding 300%.
  --Created a worldwide sales organization (affiliates and reps) in 40 countries and dominated those markets with new technologies in only 1-1/2 years; it took the competition over 3 years to respond.
  --Assembled the capital and designed the equity structure at extremely favorable terms to the founders, completing the project in three quarters of the time called for by the strategic plan.
  I enjoy the challenge of creating, building and growing a professional organization. Opportunities and potential are of paramount importance. I would be most pleased to discuss with you and your client how I would quickly duplicate these successes and build on them. Could we talk about it in the next week or ten days? My travel schedule picks up substantially late this month and I'll be much more difficult to reach.
  With enthusiasm,
  Bridge
英文求职信 篇7
  dear miss liu:
  application for the position of accounting manager in response to your advertisement in today's for the above position, i would like to submit my application for your consideration.
  during the past nine years, my experience has concentrated in the accounting industry with an accounting services firm. being an
  accounting manager for four years, i assisted in the development of a base reference library for 500 clients.
  as you will notice from my resume, i possess excellent oral and writing skills. i have trained four new supervisors through coaching sessions, communication meetings and technical skills sessions.i believe this background provides the management skills you require for this position. i look forward to your reply.
  yours sincerely
  xxx
英文求职信 篇8
敬启者:
  就以我过去的推销背景而言,本人自信可以胜任贵公司星期四在XX报招聘的职务,敬请给予考虑。我于xxx年从北京商学院毕业,曾在当代公司男装部担任 推销员两年,后在世都百货公司男装店三年,目前仍在此工作。
  之所以离职,是因目前似无晋升机会,就我的工作能力和所受训练及我对工作的热情,我认为我应该获得晋升和较高待遇。
  我乐于奉告阁下,如阁下要求提供查询人,以便了解我的工作情况和性格,我可以满足阁下要求。
  XX启
  Gentlemen,
  Because I believe that my sales background fits me for the position you advertised in Thursday's newspaper, I ask that you consider my qualification.
  I was graduated from Beijing Commercial College in July xxxx. My experience has included two year as salesman in the Men's Clo- thing Department for DangDai; and three years in the Men's Shop for ShiDu, where I am still employed.
  My reason for wishing to make a change at this time is that there seems no opportunity for advancement in my present position, and I feel that my ability and training, as well as my interest in my work, should lead to advancement and a higher salary.
  I am happy to refer you upon your request people who can tell you of my work and my character.
  Truly yours,
英文求职信 篇9
Respect of leadership:
  Hello! Thank you for your first reading my letter in your busy schedule, to an enthusiastic college students open a door of hope.
  My name is XXX, graduated from XXX School of architectural engineering technology specialty students. To take this career, I with a sincere heart and the cause of the persistent pursuit of sincere recommended himself.
  In twenty-first Century the call of personnel comprehensive, in a few years of learning in life I have a very good professional knowledge, good grades. I love the building technology, during the period of school, to learn the CAD drawing, building architecture, material science, construction drawing, engineering mechanics, construction technology, foundation and foundation, steel structure, engineering surveying, material mechanics, structural mechanics, construction technology. The project budget, all have a certain work and organization and coordination ability, strong sense of responsibility, can bear hardships and stand hard work, honesty, trustworthiness, dedication. I have a strong practical ability to stand on solid ground, and efforts to do every thing.
  In daily work, I with positive and optimistic attitude towards life. My pursuit of "Sanming" (smart, smart, open), "four" (mature personality, humanity, humanity depth, human sophistication) lofty realm, with benevolence and wisdom, and courage to set strict demands on themselves, I am honest, can get along with people, and common progress.
  I am interested in a wide range, to participate in various activities such as basketball, football, let me know different friends, the more honed their will. Excellent quality to develop in the work constantly learning rigorous dependably work style and the unity cooperation, make me believe oneself completely in the positions in setting, dedication, more business! I believe that my ability and knowledge are needed by your company, I sincerely desire, I can for the expensive unit tomorrow sacrifice their own youth and enthusiasm!
  In 20xx five four school recognition I get "Miyoshi students," the honorary title of "outstanding member" honorary award, in 20xx the school during the internship was "excellent intern" honors, three times won the school "two scholarship".
  The past does not represent the future, diligence is the real meaning for practical work and constantly improve themselves, do a good job. "The fear of Huai Yi Xing Si morale, to the sky and sun package".
  Look forward to your feedback!
  Yours sincerely
  Salute
【【精华】英文求职信模板锦集九篇】相关文章:
【精华】英文求职信模板锦集10篇01-23
英文求职信模板锦集6篇11-07
【精华】英文求职信锦集七篇01-10
【精品】英文求职信模板锦集6篇02-16
【精品】英文求职信模板锦集9篇02-13
有关英文求职信模板锦集6篇02-03
【推荐】英文求职信模板锦集6篇02-02
【实用】英文求职信模板锦集五篇01-23
【热门】英文求职信模板锦集八篇01-12