实用的英文求职信模板集合六篇
  日子在弹指一挥间就毫无声息的流逝,新一轮的招聘又朝我们走来,是时候抽出时间写求职信了哦。千万不能认为求职信随便应付就可以喔,以下是小编整理的英文求职信6篇,希望对大家有所帮助。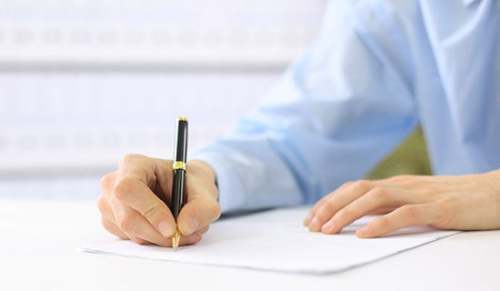 英文求职信 篇1
  Dear Madame or Sir:
  When you read this cover letter, I know I have seen the aurora of hope. Thank you for reading my cover letter during your busy work and giving me a chance to show myself. I learned from the internet that your university wanted to hire an English teacher. I'm interested in this job very much. I'd like to get this job. Now I'd like to introduce myself to you. My name is Yao Yang. I am 25 years old and 175 cm tall. I like swimming, singing and playing basketball in my spare time. I will graduate from English Department of Luhansk Taras Shevchenko National University with the master degree, majoring in the English language and literature. Owing to be born in the educational family, I own the good quality,and eager to engage in the education career. Logicality, friendly and actively are three main aspects to modify my characters. I am willing to work hard and have good cooperation with difference people.
  My professional learning has laid a solid foundation of English knowledge and relevant theories; In the meantime, I have good achievements of language study and especially with the Extensive Listening, Extensive Oral English and Russian. I am confident that the courses studied in university, such as the theory of communication, linguistics, advanced English, Oral Translation, English & American Literature, etc. Contribute effectively to my future work in the field of education. In addition, I am familiar with the teaching theories and skills in China, USA, Ukraine and Russia.
  In addition, I am quite skillful in computer operation, such as WORD, EXCEL and so on. I was a leader of arguer in my department when I studied in HuaiHua College, and did well in any tasks about moot. I took active part in the sports team of my department and got great achievements. Besides, I am quite skillful in guitar playing, singing, and performance arranging.
  During my study, I am not only accumulating knowledge, but also putting the knowledge into application. I have participated in lots of practice in my spare time and vocation. Sometimes to be a tutor, sometimes to be an office clerk, and sometimes to be a tourist guide. Therefore, I own numerous experiences.
  As known to us all, your university is one of the most prominent universities in this area. Not only depends on your leadership, but also attributes to all of the teachers' efforts. Now I will graduate from university and I am looking for a suitable field in which will make development all the time. The only principle for me to choose job is that I can make good use of my potential; I believe that I am the best candidate.
  I would appreciate an opportunity to have an interview. I am enclosing a brief resume as you requested. If there is further information that you wish in the meantime, please let me know. Because I am still in Ukraine, you can contact my mother in China at Tel: 15807409xxx. And I can always be reached at TEL:....Looking forward to hearing from you soon and best regards. Thank you very much.
  Sincerely,
英文求职信 篇2
Dear leaders:
  Hello!
  Thank you for your busy schedule to review my coverleter, want to give me a chance.
  My name is xxx, is xx Pharmaceutical Engineering graduates 07. University of 4 years, I learned the system, pharmaceutical preparations, pharmaceutical technology, drug analysis, etc., in its pharmaceutical preparations not only know how, production technology, quality analysis, but also to understand the application of engineering and technology capacity, at the same time, I have a strong English listening, speaking, reading and writing skills, there are four CET certificate, two computers through the provincial exams, can skilled use of common office software and networks.
  I grew up in the hospital from a young age is my sass firm's determination to apply for the Chinese medicine profession, I believe that the pharmacy profession is the sunrise industry of the 21st century, with a bright future in particular.
  While reading in the science, but I am a good liberal arts foundation, there are some good text. Like the Chinese medicine profession, professionals prefer to read popular science books and other reading materials.
  In school, I also actively participated in various community organizations, such as love Hua agency, radio stations, but also as a number of small office and joined the party, the practice so that I know how to live in harmony with people, but also I am a more pragmatic, more responsibility, I believe that this is an important experience in my life and a valuable asset.
  I believe that fate, if it can be won your appreciation, give me a chance, I will be grateful, some serious, down-to-earth, hard work, sincerity and performance with the return of your love.
  I hope that the leadership can be taken into account for me, I eagerly look forward to hearing from you.
  Self people xxx
英文求职信 篇3
Dear Sir,
  I am a graduate in20xx, graduating from Southwestern University of Finance and Economics. I wasnoticed your company is looking for a CFO and I am writing to candidate forthis position. I was major in financial management in college and minor inBusiness. I studied very hard in school and I was perfect in my courses. I rankedtop three in my college. Moreover, I took part-time jobs in summer holidays andI had an internship in a company before, which brought me great practicalexperience. I know your company aims to internationalization and I am sure whatI learned in school would help me to be qualified to this position. The followingis my resume in details that will help you to know me better. I'm lookingforward to your positive reply. And Best wishes for you and your company.
  Sincerely yours,
  Christ
英文求职信 篇4
  address
  city, state, zip code
  phone number
  email address date (if you have it)
  name
  title
  company
  address
  city, state, zip code
  dear mr./ms. last name, (leave out if you don't have a contact)
  the body of your cover letter lets the employer know what position you are applying for, why the employer should select you for an interview, and how you will follow-up.
  the first paragraph of your letter should include information on why you are writing. mention the position you are applying for and where you found the job listing. include the name of a mutual contact, if you have one.
  the next section of your cover letter should describe what you have to offer the employer. mention specifically how your qualifications match the job you are applying for. remember, you are interpreting your resume, not repeating it.
  conclude your cover letter by thanking the employer for considering you for the position. include information on how you will follow-up. respectfully yours, handwritten signature (for a mailed letter) typed signature
英文求职信 篇5
Dear Mr. Smith,
  Ms. Maria Mayor of your company has told me that your department needs a managerial assistant, and I want to apply for the position. I graduated from the University of Business and Economy last year. My major was Human Resource. I have some business experience that I believe qualifies me for the position. .
  I am really interested in learning business practices. I am a diligent worker and a fast learner. If given a chance, I am sure I can prove my worth in your company.
  I am available during the weekdays in the morning for an interview. Please find my resume enclosed. I look forward to hearing from you.
  Sincerely yours,
  xx
英文求职信 篇6
  Dear Sir/Madam:
  Its my great honor to browse this personal information!
  Since graduated from Hunan Huangpu Foreign Language College in 20xx,I had done the teaching for one and half an year,and had worked in foreign trade business.
  Until in Feb,20xx,I returned to the South Central University for studying more knowledge and confirming objective.
  During the past two years studing,I had been majoring the Application English on the base of Trading English,including the Advance English(one),Advance(two),Economy And Trade English,Busiess English Correspondence,Selected Readings In English And American Literatures,Chinese And English Translation Course,Interpret And Listening,Japanese,Advance English Writing etc.In addtion, I got the undergraduate diploma,flunetly oral English,good conpprehesion reading
  better social communication ability!
  For the time being, I would like to hunt the job that with regard to the trade business or English.I am sure that I should take advantage of my ability and experience to serve for your firm.
  Thanks for your reading!
  Looking forward to your replying!
  With Best Regards,
  Salina Hu
【英文求职信】相关文章:
英文求职信英文求职信简单03-23
英文求职信 写英文求职信02-14
英文求职信 求职信范文英文03-10
英文求职信 一封英文的求职信11-11
英文求职信06-08
英文求职信11-14
求职信英文11-02
英文的求职信11-07
经典英文求职信12-17
求职信英文10-20