【实用】英文求职信汇总6篇
  时间是箭,去来迅疾,许多朋友又将开始寻求新的工作机会,是时候抽出时间写求职信了哦。好的'求职信都具备一些什么特点呢?以下是小编精心整理的英文求职信6篇,欢迎大家分享。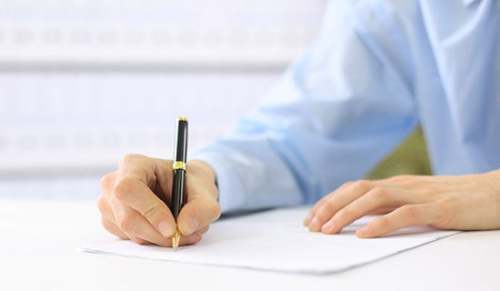 英文求职信 篇1
Dear Sir/Madam:
  My name is and I will graduate from Xi'an FanYi University in the year 20xx. My major is secretary in English department.
  It's my great pleasure to have this opportunity to improve our mutual understanding. During the three –year college study,I tried my best to learn all kinds of knowledge,and weigh the hard work of my teachers and myself; I have mastered English listening,speaking,writing and reading skills.
  Moreover, I have a good command of Business English and the basic theory, public relationship of secretary. Meanwhile, in order to enlarge my knowledge, I always read some newspapers and magazines about business and trade, and I used to do some representative of business in my spare time. At the same time, I learnt computer skills during my summer vacation,and now I'm familiar with Office 20xx. It is my three –year college life that makes me form my life attitude. Also my three-year college life that makes me rich in knowledge,and it's also my three-year college life that makes me form my life attitude. Honesty,Trust,Diligence is principle of how to be a man.
  As a college graduate,I believe "where there is a will, there is a way", and I will try my best to do a good job in my business. So I sincerely hope that I can make a position in your company so that I can serve for the company in the future.
  Yours faithfully,
英文求职信 篇2
  尊敬的先生/女士:
  您好!
  我叫陶芳艳,是湖南农业大学东方科技学院的一名大二学生。我的专业是英语,并且我还选修了日语作为我的第二专业。
  我得知贵公司在我镇建建立了美国旅游中心,并且正在招聘导游。我对此非常感兴趣。因为我是本地人,对该城镇的地理环境很熟悉,另一方面,我的专业是英语, 我对英语也很擅长。因此我想应聘贵公司的导游招聘。
  我真诚地希望加入贵公司,因此我在此求职信中附上了我大学期间获得的一些证书的复印件。如果贵公司对我的条件满意,请给我一个面试的机会。
  谨祝:工作顺利!
  陶芳艳
  20xx年5月26日
  May 26, 20xx
  Dear Sir/Madam:
  My name is Cidy, and I am a sophomore of Orient Science & Technology Colleges of Hunan Agriculture University. My major is English. And I have chosen Japanese as my second major.
  I heard that your travel association has established a centre for American tourists in my town, and you are going to employ tourist guides. I am very interested in the job. On one hand, since I am the local people, I am familiar with the environment surround. On the other hand, I majored in English, and I am good at English. So I want to apply for the job position.
  I sincerely hope to be one of you. So I deliver my application letter, attached with some copies of certificates I've got in college, to your company. If you are satisfied with my conditions, please arrange an interview with me.
  Thanks a lot, and my best wishes to you.
  Sincerely yours, Cidy
英文求职信 篇3
Respected leaders:
  Hello! It is a great pleasure that you can read my letter of application in a busy schedule. Thank you.
  I am a graduate of human resources management at XX School of management. The four years of university are the four years of my thought, knowledge structure and psychology and mature growth. Since I entered the University, everything has begun, and I continue to work hard to meet the new challenges.
  In theoretical study, with its solid foundation and persistent spirit of struggle, after years of continuous learning, it has made great progress in all aspects. I studied the theory of professional knowledge and read a lot of computer books. At the same time, I also have a strong interest in many non professional knowledge. I have passed the national computer level two test. In the professional foreign language, I have a certain practical basis and have a strong ability to translate. The study and life during the University made me cultivate a sense of responsibility and hardship, and let me learn a lot of knowledge.
  During the period of school, I took part in all kinds of sports and entertainment activities so as to cultivate solidarity and cooperation spirit and develop my talents, and at the same time, I improved greatly in teamwork. I have been a class cadre for a long time. I have designed and organized a number of activities. I have a certain organizational ability and are well received by the teachers and students. In the continuous learning and work of the excellent quality of rigorous, pragmatic style of work and team, so I am sure they can be in a position to sovereignty, dedication and more! I am strict with myself, and pay more attention to the training of ability, especially the practical ability is my strength.
  In ideological cultivation, quality is excellent, ideological progress, sincere, faithful, courtesy, wisdom of the principle of making people. During the period of school, it was more glorious to join the Communist Party of China.
  Now, I hope your company can give me a platform for development. I will cherish it. I will strive to realize my life value and contribute to the development of your company with enthusiasm and dedication.
  This
  Salute!
  Job seekers: XXX
英文求职信 篇4
  April 13,20xx P.O. Box 36 Tsinghua University Beijing,China 100084 Dear Sir/Madam: Your advertisement for a Network Maintenance Engineer in the April 10 Student Daily interested me bacause the position that you described sounds exactly like the kind of job I am seeking. According to the advertisement ,your position requires top university,Bachelor or above in Computer Science or equivalent field and proficient in Windows NT4.0 and LINUX System. I feel that I am competent to meet the requirements. I will be graduating from Graduate School of Tsinghua University this year with a M.S. degree . My studies have included courses in computer control and management and I designed a control simulation system developed with Microsoft Visual InterDev and SQL Server. During my education, I have grasped the principals of my major and skills of practice. Not only have I passed CET-6, but more important I can communicate with others freely in English. My ability to write and speak English is out of question. I would appreciate your time in reviewing my enclosed resume and if there is any additional information you require, please contact me.I would welcome an opportunity to meet with you for a personal interview. With many thanks, Wang Lin
英文求职信 篇5
  thank you in spite of being very busy toglance review my cover letter, thank you! my name is zhang, a man who in hin yubaoding vocational and technical college graduate students huishen professional level XX. after several years of qianxiu, long preparation, i finally coming to a qualified college graduates in era of the identity of the station before, receiving your chosen, and ready to oneself of the learned to give you my common cause.
  i dare not prided himself is a talent, but i believe that my fighting spirit and enterprising spirit. through the training and alma mater their own efforts, i not only have the accounting professional required to do zhang such basic ability, meanwhile, after efforts, i successfully passed accounting exam, won the national unified accounting certificate, in addition in learning professional knowledge at the same time, i also fully use after school time to learn the computer courses and also passed the national computer level exam. in learning english, i"m learning college english basis, made english four levels of certificates, have a certain amount of translation, reading, speaking and writing skills, is now a higher goal.
  at the same time, social competition impressed me with the importance of comprehensive development inter-disciplinary talent, in the development principles, i widely read all kinds of useful books, knowledge structure improvement. meanwhile, rich and colorful social life and sleek and competitive learning atmosphere, make me all aspects of exercise and get a different degree test. a lot of social practice makes my ability to get a high rise, so as to enhance the quality of bears hardships and stands hard work, cultivate my good psychological quality and high sense of responsibility, set up my duties jamie"s infidelity working idea. "work a harvest" has been a concept, i was persistent "hard" is our constant criteria. in earnest to complete the study task at the same time, i also pays attention to improve his thoughts and their ability to ascend, i attended the dangke,37period and achieved dangke graduation certificate. and participated in the department of activities, such as organized session competition, games, a poetry reading etc, and in the seventh sports meeting has been awarded "excellent organizer".
  admittedly, i don"t have the highest professional qualification, but i have the highest professional qualification of studious diligence and pragmatic, "jade in du and good price, when in chai magazine to fly" desire within big then cast, the more anxious to have bole recognition and trust. i"ll use my practical action to return you to my choice, with my youth and intelligence for the rapid development of social contribution! no matter what i get something, please pay attention to my future! i will be taking on a new look to meet brilliant tomorrow!
英文求职信 篇6
Dear Mr. Zhang:
  Your advertisement for an assistant of material engineers in your company interested me bacause the position that you described sounds exactly like the kind of job I am seeking,and I have sent my CV to you.
  In my CV, I have introduced my personal information, including my major, objective, education background, main skill, etc. The main qualities of me are preparedness to work hard, ability to learn, ambition and good health. I sincerely hope that I can make a position in your company so that I can serve for the company in the future.
  I would appreciate your time in reviewing my enclosed resume. Please contact me if you would like to hear and see more.
  Sincerely,
  Xiao Hong
【【实用】英文求职信汇总6篇】相关文章:
【实用】英文求职信模板汇总五篇11-12
【实用】英文求职信模板汇总六篇02-04
【实用】英文求职信范文汇总六篇01-29
【实用】英文求职信范文汇总九篇01-10
实用的英文求职信模板汇总5篇12-24
实用的英文求职信范文汇总九篇03-06
实用的英文求职信模板汇总七篇03-05
实用的英文求职信范文汇总5篇03-04
实用的英文求职信范文汇总五篇03-03
实用的英文求职信范文汇总六篇03-01