机械设计工程师英文简历
  机械类设计工程师:机械类专业;熟悉电子产品生产通用设备及工艺流程 ;熟悉PCB板设计软件及熟练使用AutoCAD等机械设计软件;熟悉PLC等编程控制技术。以下CN人才网小编为您带来了两篇机械设计工程师英文简历,仅供参考!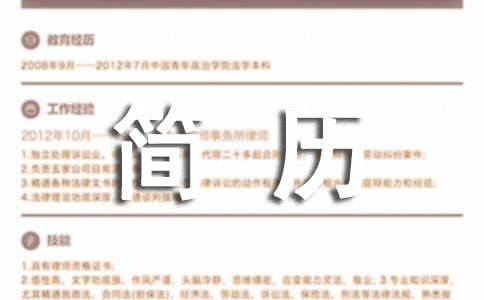 机械设计工程师英文简历【一】
  EDUCATION
  University of Pennsylvania
  School of Engineering and Applied Science
  Philadelphia, PA
  Candidate for Bachelor of Science in Engineering
  May 2014
  Major:
  Mechanical Engineering & Applied Mechanics
  Cumulative GPA:
  3.33/4.00
  Minor:
  Mathematics
  Current Coursework: Mechanics of Solids, Probability, Vibration of Mechanical Systems
  Senior Design Project: Design and build a pressure and heat sensitive wrist support pad for keyboards to improve comfort and decrease ailments such as carpal tunnel syndrome.
  COMPUTER SKILLS
  Expedition, Buzzsaw, Pro/Engineer 3D Modeling, SolidWorks, AutoCad, MathCAD, MatLab, C++, Java, Microsoft Office
  WORK EXPERIENCE
  LF Driscoll
  AtlantiCare Regional Medical Center Projec, Atlantic City, NJ
  Summer 2013 - Present
  Student Intern
  Process project documents and drawings to ensure accuracy and consistency among all trades.
  Assist Senior Project Manager with billing and monthly budget reports tracking and monitoring expenditures.
  Oversee and report to Senior Project Manager on the daily progress of steel erection.
  L-3 Communications
  Communications Systems-East, Camden, NJ
  Summer 2012
  Summer Intern, Technical
  Developed a mathematical model to simulate life spans of solder joints on circuit boards aboard military aircraft.
  Designed and modeled the electronic packaging for secure wireless equipment.
  Received a secret level security clearance.
  Lockheed Martin
  Maritime Systems and Sensors, Moorestown, NJ
  Summer 2011
  College Student Tech
  Assisted a head engineer in the analysis of telecommunication equipment.
  Used proprietary software to make drawing changes as directed.
  Identified a listing of specified technical equipment for the Navy and compiled the data using modeling software.
  HONORS and ACTIVITIES
  University of Pennsylvania:
  Alpha Chi Rho Fraternity - House Manager (2011), Habitat for Humanity, Society of Automotive Engineers - Student Chapter
  Crosstown High School:
  United States Senate Scholarship Nominee, Honors Physics Award, Varsity Track Athlete,Student Leadership and Service
  VOLUNTEER WORK
  New Jersey Association of Student Councils Leadership Training Conference
  Junior Counselor (2009, 2010, 2011, 2012) Administrative Assistant (2007)
  Counselor to middle and high school students.
  Mentored participants in development of student government and leadership skills.
  PERSONAL
  Interests include playing guitar, cycling, football, and other outdoor activities. Self-funding over 50% of tuition through employment, grants and loans. Enjoy woodworking and furniture building. Scuba Diving Certification
  机械设计工程师英文简历【二】
  Persional Data
  Name: YourName Sex:
  Date of birth:
  Mobile phone:
  Email:
  HomePage:
  Education
  Bachelor in mechanical and electrical engineering
  Academic main courses
  Mechanical design, electromechanics integrate, the electromechanical drive and control, control theory and project ,Electrician electronics, CAD drawing, Principle of the microcomputer ,etc
  Computer abilitees
  Skilled in use of Autocad,pro-e,C,Office2015.
  English skills
  Have a good command of both spoken and written English .Past CET-4
  Scholarships and Awards
  2015 -- obtain the title of Excellence Member
  2015 --Obtained the third-class scholarship in 2015 academic years last term
  2015 --Obtained the first-class of college Dancing Compete
  2015 --Obtained the second-class of Painting and Calligraphy of Freshman
  Social activities
  Commissary of Literature for four years post that serve as, Joined the Literature Part of Student Unin and taking the post as the second anize the activities of the class , institute grade , school grade many times, the ability that temper my organization and coordination ability and cooperate, there is very strong team spirit.
  Practise the experience
  Participate in the programming of the mechanical design , control at school in March of 2015.
  Move Combustion Engine Plant to practise in the fields lying fallow in rotation of source in China in October of 2015, the textile machinery factory of Qingdao in November, Qingdao victory can steam turbine Co., Ltd.,liberate the First Automobile Factory of China, it practise visiting locomotive factory all sides Qingdao
  The metal working at school was practised in May of 2015, the electronic electrician at school practised in November
【机械设计工程师英文简历】相关文章:
工程师英文简历02-24
应聘工程师的英文简历03-06
工程师的英文简历范本12-22
工业工程师英文简历范本12-20
工程师英文简历模板精选11-21
软件工程师简明英文简历02-26
电子工程师求职应聘英文简历02-24
质量工程师的英文简历模板01-29
测试工程师英文简历模板范文05-30
关于软件工程师英文简历范本09-16