新版会计英文简历模板(通用5篇)
  英文简历是使用英文写的'简历。英文简历并无固定不变的单一形式,应聘者完全可以根据个人的具体情况来确定采用何种形式,灵活设计。下面为大家共享一份新版会计英文简历模板给大家参考!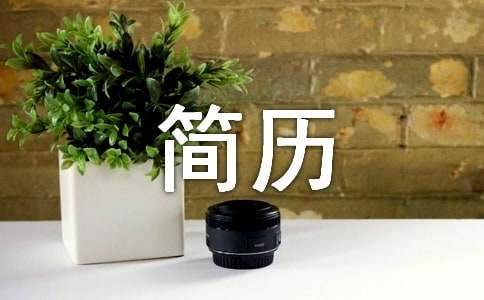 新版会计英文简历 篇1
  Name: xxx
  Gender: Female
  Date of birth: 1990-04-02
  National: Han
  Political affiliation: Members
  Residence: Zhejiang
  Place of residence: Jiaxing City
  Marital status: single
  Health: excellent
  Work experience: students in reading
  Graduation time: 2013-06
  Current monthly salary: no
  Self introduction:
  I treat people sincerely, motivated to do things, a quick mind, strong ability to accept. Mature, honest. Self-confidence, earnest, has the opinion, not afraid of hard work.
  A stable personality, high sense of responsibility.
  Able to work in a multi-cultural and diverse work background. I do have a high sense of responsibility and strict self-discipline principle, believe and execution "in the work of the Institute, will study" in learning. I once again fall, but I again stand up, move on, because optimistic, persistence, hard work is my beacon.
  Eager to get the recognition and praise, make me with more enthusiasm into the new challenges, toward a higher goal impact.
  Job search intention
  Job type: Full-time
  Application industries: Finance (banking / risk fund), all industries, all industries
  Job requirements: Accounting / finance, accounting, sales, customer manager, administrative / logistic class - > clerk
  Work location: Jiaxing City
  Company nature: state-owned enterprises, Sino-foreign joint ventures, and institutions
  Desired salary: 2000 ~ 2500 yuan
  Education experience
  Learning time: 2009 September to 2012 December
  The name of the school: Jiaxing University
  Qualifications: Bachelor
  Major: Finance
  Short description: university four years I learned the theory and skills of financial professional, academic performance is good, without bad record, all courses by the rules of the school
  The courses are as follows: finance, financial engineering, finance, marketing, international finance, investment banking, financial English
  Personal skills
  Language: English
  Language level: General
  Brief description: the university English four levels
  Skill name: accounting qualification, Bank of qualification
  Proficiency: fluent
  The certificate name: Certificate of accounting professional
  For time: 2011 April
  Short description: after university study, I passed the examination examination of the accounting qualification certificate, to prepare for their job.
  Occupation target: I wanted to do a successful man, can bring happiness to the people around. I'd like a word -- "jade carving is not polished, it cannot become a utensil; people if do not learn, do not understand the truth in life, also can't do."
  新版会计英文简历 篇2
  Personal information
  xxx
  Gender: male
  Nationality: han
  Age: 38
  Marital status: married
  Professional name: accountant
  Major: finance and economics
  Political status: the masses
  Graduated from: central radio and television university
  Graduation date: June 2015
  Highest degree: junior college
  Computer level: proficient
  Work experience: over 10 years
  Height: 170 cm
  Weight: 68kg
  Location: xinluo district
  Domicile: xinluo district
  objective
  Expected career: finance manager
  Expected salary: 6000-8000
  Expected working area: yongding county
  Expected job nature: full-time
  As soon as possible: 1 month
  Need to provide housing: no
  Work experience
  Company name: fujian good food industry co., LTD. (April 2015 - June 2017)
  Industry: fast-moving consumer goods (food, food, food, dairy, tobacco and alcohol...) The nature of the company: the shareholding enterprise
  Company size: 200 ~ 500 people working place: wuli industrial park in jinjiang city, fujian province
  Job title: finance manager
  To establish and improve the internal control system and the implementation of the whole ERP process (in particular, the implementation of the ERP control process and the cost ERPR system accounting);
  2. Reviewed all operating contracts of the company, and improved the process and control of company product quotation approval;
  3. Fully responsible for the audit of the internal and external internal and external IPO accounts, and make a presentation of the meeting of cost and operating expenses and financial results flow chart to assist the general manager in scientific operation and management;
  4. Responsible for the assessment and implementation of the company's performance quantification management, as well as participating in the development of company strategy;
  Reason for leaving: want to go back to take care of the family
  Company name: fujian province liffe pharmaceutical co., LTD. (November 2012 - March 2015)
  Industry: pharmaceutical · bioengineering company nature: private. Private enterprises
  Company size: 200 ~ 500 people working place: longyan dongxiao economic and technological development zone
  Job title: finance manager
  1. Responsible for formulating and improving the company's cost and cost control system, analyzing the relationship between cost, expense and profit.
  2. Assisted in formulating salary incentive plan and performance and cost assessment scheme of senior cadres in the company; To participate in the performance appraisal of senior cadres in the company and put forward Suggestions for rewards and punishments.
  3. Presided over the comprehensive work of the financial department of the company, reasonably configured, assessed, trained, and appointed free and finance personnel, and implemented the post responsibility system.
  Responsible for two sets of accounts and a set of work, complete a set of semi-accounts processing, and be responsible for the compilation of special audit accounts and the assistance to apply for special government subsidy funds.
  Reason for leaving: seeking development
  Self assessment
  I have been engaged in finance for more than 10 years, and I am familiar with the financial management experience of shoes, textiles, pharmaceutical, food, etc. To establish and improve the company's financial management system and internal control system; Can establish and improve accounting, budget and cost control system; Able to conduct budget management, tax planning, financial analysis, risk monitoring and financial experience of listed companies; Familiar with various financial software, proficient in Excel, ERP and other office software; Have strong innovation ability and team cohesion; With good professional ethics, principles and strong sense of responsibility, good communication and coordination ability and execution ability, sincere cooperation.
  Language ability
  Language name mastery degree
  Good English
  Mandarin good
  新版会计英文简历 篇3
  Annie Smith
  69 N. Grant Street, Mid Lake City, California 84301
  Cell :( 988) 598-1331
  Email: andrew.smith@anymail.com
  Career Objective:To take up the responsibilities of a Tax Specialist in a renowned organization wherein my skills and abilities will enhance the growth and development of the organization.
  Core Competencies:
  Possess more than twelve years of professional experience in handling financial and accounting tasks
  Strong analytical and organizational skills
  In-depth knowledge of financial and accounting
  Excellent command over English and German language
  Good time management and leadership skills
  Multitasking skills with ability to work in independently and as a part of a team
  Familiar with the rules and regulations of taxation laws
  Technical Proficiencies:
  Knowledge of Microsoft word, excel, tally, PowerPoint, vertex, Fasttax, BNA and CD-ROM based programs
  Educational Summary:
  Master's degrees in Taxation from University of California in the year 19X
  Bachelor's degree in Accounting, Saint Mary college of Arts, California in the year 19XX
  Certification:
  Certified public Accountant, Business Learning Centre, California in the year 19XX
  Professional Experience:
  New Insurance Associates & Co, California
  20XX till date
  Tax Specialist
  Prepared financial statements, PST/GST and tax related statements
  Researched specialized questions and prepared recommendations
  Supervised tax interns and tax staff
  Worked on international tax schedules
  Reviewed and prepared both separate and consolidated company, federal and multi state corporate tax returns
  Planned and researched on various tax issues like analysis of proposed legislation and new tax laws
  Involved with government tax audits and correspondence
  International Business Centre, California
  19XX to 20XX
  Staff Tax Accountant
  Prepared individual, corporate, partnership and other types of tax returns
  Researched on various tax related matters
  Handled the tasks of responding to client and government inquires regarding tax related issues
  Prepared payroll, sales, commercial and property rent returns
  Assigned the tasks of preparing weekly payroll for 100 employees
  Handled the responsibilities of annual property tax reporting and quarterly sales tax reporting
  Hobbies:
  Reading Novels, listening to soft music, traveling and shopping
  Personal Details:
  Name: Annie Smith
  Date of Birth: XX/XX/19XX
  Employment Status: Permanent
  Marital Status: Single
  References:
  Mr. Andrew Smith
  California International Banking Group, California
  Tax Specialist
  Cell: 988-258-8888
  Email:andrew.smith@rediffmail.com
  新版会计英文简历 篇4
  No.67, Lane123 Job Road,,Job District, Shanghai
  (+86) 13xxxxxxxxxx
  Objective: Accountant
  SUMMARY OF QUALIFICATIONS
  Two summers of accounting-related experience; 78% average in accounting courses
  Excellent teamwork and leadership skills demonstrated as Chair of Events Committee; increased club's membership over the last year
  Commended for high level of customer service as a Sales Associate for over three years
  EDUCATION
  x-present
  Bachelor of Commerce
  University of Toronto Mississauga
  Specialist: Accounting/Finance and Economics
  Working toward completion of IACO 51 credit hours
  Maintaining 78% average in accounting courses
  ACCOUNTING-RELATED EXPERIENCE
  Summers x, x
  Payroll Clerk
  Glaxo Wellcome
  Coordinated and implemented projects involving data collection, organization, computer input and data analysis
  Presented project findings as a five member team to senior management; resulted in company-wide policy changes for the Payroll/Finance Department
  Prepared monthly internal financial summaries for two large international customers
  Followed up on outstanding invoices by contacting customers
  OTHER EXPERIENCE
  x-Present
  Chair, Events Committee
  ISA (student cultural group) University of Toronto Mississauga
  Initiated and coordinated cultural events series, working collaboratively with up to 20 other students
  Planned timeline, designed marketing and prepared budget
  200 students attended the three events with $500 over target raised
  Increased participation by 50% in x-x
  x-Present
  Sales Associate
  Athletes World
  Regularly exceed monthly sales goals
  Manage all customer interactions by listening attentively, determining their needs and making suitable recommendations
  Commended for high level of customer service and responsiveness to needs
  x-Present
  Peel Women's Soccer Club
  Volunteer
  Promoted to Team Captain in Summer x
  Encouraged members to perform aggressively, while maintaining fair play and good teamwork
  Scheduled practices with members and coaching staff
  Summer x
  Telemarketer
  Liberty Cablesystems
  Promoted all cable services to existing and potential customers and achieved all sales targets
  Prepared invoices and other necessary paperwork on a timely basis
  COMPUTER SKILLS
  Accpac, expert level of proficiency with Excel, Access
  INTERESTS
  Enjoy many types of music; have travelled to Southeast Asia
  新版会计英文简历 篇5
  resume number: 455028602 updating date: xx-12-25 17:20:33
  name: miss. l nationality: china (mainland)
  current place: dongguan height/weight: 156 cm xkg
  marital status: married age: 37 years
  career objective
  application type: jobseeker
  preferred job title: finance manager: cfo 、 finance director: accountant 、 accountant: managermant
  working life: 14 title: middle title
  job type: full time expected start date: in two months
  expected salary: ¥8,000--¥12,000 preferred working place: dongguan
  work experience
  companys name: kou ryou enterprise corp.begin and end date: xx-10-
  enterprise nature: othersindustry: internet/e-commerce
  job title: cfo
  job description: hr ,customer service,managerment account
  ·responsible for the accurate and timely processing of accounts payable/receivable, payroll,insurance reports,and sales tax/payroll tax reporting.
  ·performing job costing ,account analysis,and general ledger management using lotus and excel.
  reasons for leaving:
  educational background
  name of school: nanchang university
  highest degree: associate date of graduation: 1996-07-01
  name of major 1: account & statistics name of major 2:
  education experience:
  start date end date education organization majors certificate certificate no
  xx-10 xx-05 self-sudy chinese accountant m technical
  xx-12 self-sudy acca the first phase
  language ability
  foreign language: english level: normal
  language ability: cantonese
  chinese level: perfect cantonese level: perfect
  relevant skills and abilities
  seasoned
  ·more than 12 years in accounting.
  ·training and directing staff in accounting activities and be an expert in lotus system.
  ·planning and conducting audits and variance analysis ,processing payroll and payroll tax reports and files,and maintaining /updating accurate inventories.
  self-recommendation letter
  bookish
  ·assisted in budget forecasting.
  ·developed standard cost data and variance analyses.
  ·reviewed capital expenditures and coordinated /reconciled physical inventories.
【新版会计英文简历模板(通用5篇)】相关文章:
会计英文简历模板01-26
会计个人英文简历模板08-29
新版会计辞职信模板精选04-09
会计学英文简历模板09-01
2015最新会计英文简历范文模板10-07
注册会计师英文简历模板02-02
精美英文简历模板(通用10篇)04-26
会计个人英文简历样本02-07
外企会计英文简历样本02-06
会计个人英文简历范本12-24