【精品】英文求职信范文集合九篇
  时间过得飞快,又到了寻求新的工作机会的时候,是时候好好地琢磨一下写求职信的事情了哦。千万不能认为求职信随便应付就可以喔,以下是小编帮大家整理的英文求职信9篇,仅供参考,大家一起来看看吧。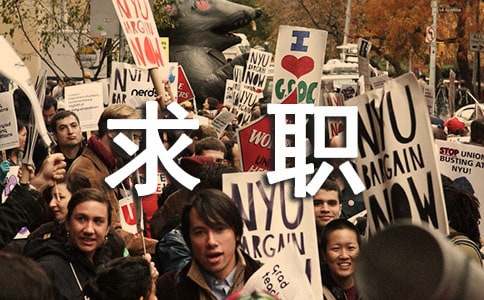 英文求职信 篇1
  dear sir,
  four years as a senior clerk in sales department of the new world products company have,i believe,given me the experience to qualify for the job you advertised in thursday's
  newspaper.
  since 1981 i have been responsible for all office details in the administration of sales, including writing much of the correspondence. in the course of my work,i have become familiar with the various sales territories,and have also in my spare time experience of handling business problems other than my proper sphere.
  the years before i was employed at the new world,i was a secretary for long brother,an accounting firm.there i became familiar with accounting terms and procedures.
  i was graduated at wah yan college,in june 1974.i am twenty-five years of age and single.
  i am leaving my present position because i can use my capabilities more fully in a position with wider scope.my present employer knows of my ambition and is helping me to find a new place.
  may i see you at your office to tell you more about myself and show you just how well i can do the work you require.
  yours faithfully,
英文求职信 篇2
  carolyn a. beatty
  400 east 7th street home: (215) 557-****
  lansdale, pa 19407 office: (215) 883*****
  april 18, 20xx
  ms. janet n. morse
  vice president of human resourses
  the utica corporation
  100 woodlawn avenue
  utica, ny 27716
  dear mr. morse:
  i am currently seeking a postion as training and development manager for a medium-sized manufacturing company. i am a hands-on, results-oriented leader with a comprehensive background in training design, development and delivery. the enclosed resume details the specifics of my experience and accomplishments.
  my background spans(跨越) over ten years of diverse training and development experience, providing support to a variety of functional clients. in all cases i have been successful in getting strong client support and ownership of the programs delivered. the following highlights some of my key accomplishments:
  -directed training of 200 person field sales organization for a major electronics distribution company
  -used assessment methodology as the basis for constructing "high performance models" for certain key management jobs. assessed key managers against these models as the basis for defining key management needs/priorities.
  -desingned and delivered company's first highly successful introductory course to total quality management-over500 managers trained across3 divisions.
  -developed methodology for linking training needs with business strategy,and put in place a reliable method for providing quantitative measurement of the effectiveness of management training and development programs.
  based upon my job experience and educational qualifications, i am confident that i can bring effective leadership to your training function and improve the overall human resource effectiveness and productivity of your company. i would appreciate the opportunity to further discuss my credentials with you during a face-to-face interview.
  i hope to hear from you shortly.
  yours very truly,
  (空格为签名处)
  carolyn a. beatty
  enclosure
英文求职信 篇3
Dear Sir,
  In reply to your advertisement in JobsPower.com regarding a vacancy in your office, I wish to apply for the position of senior clerk, which you have specified.
  I feel confident that I can meet your special requirements indicating that the candidate must have a high command of English, for I graduated from the English Language Department of - University three years ago.
  In addition to my study of English while in the University, I have worked for three years as secretary in the firm of ABC Trading Co,Ltd.
  The main reason for changing my employments is to gain more experience with a superior trading company like yours. I believe that my education and experience will prove useful for work in your office.
  I am enclosing my personal history, certificate of graduation and letter of recommendation from the president of the University, I shall be obliged if you will give me a personal interview at your convenience.
英文求职信 篇4
  Dear sir or madam,
  your recruiting advertisement for overseas trainee onis of great interests to me. with a sound educational background – two master degrees awarded by university of wollongong australia and one bachelor degree awarded by nanchang institute of aeronautical technology, china - and a keen desire to be a part of a professional firm, i am submitting my resume and wish to apply for the position referred above.
  in addition to my academic excellence, my various aptitudes displayed in extra curriculum activities combined with fluent english ability as well as proficient it skills prepare me a qualified candidate. i hold the belief that i will make positive contribution to your company.
  thank you for your time and consideration and i am looking forward to becoming an integral member of your motivated team and would appreciate your evaluation by granting me an interview.
  with enthusiastically personal regards.
  sincerely yours,
  li fang
英文求职信 篇5
  05 Network Engineering
  Guangdong Polytechnic Normal University
  No.293, Zhongshan Avenue
  Gungzhou City, 510665
  Dear Sir or Madam:
  I would like to be considered as an applicant for the advertising manager position listed in bulletin board on our campus.
  I am 20-year-old college student, majoring in Network Engineering. During my fresh year, I worked as a student-cadre as well as a study-commissioner. Working in the student union, I gained a lot work experience.
  As a sophomore, this year I plan to study hard to gain more knowledge and continue to work for news-department. The more work do, the more experience I will gain. I believe that if I put my heart into one thing, I can gain more.
  The Advertising job is similar to the new-department job, so I assured you that I will be competent in doing this.
  I would be glad to come for an interview at your convenience. My telephone number is 020-38256544. I look forward to hearing from you.
  Sincerely,
  WJONE
英文求职信 篇6
  Today,I am writing to apply for the application engineer of your company,below i will give you some general information about myself.
  I graduated from**** university in 20xx, and got a MBA degree,
  In my campus life, i have received the most excelent award three times,i have served in the colleague baskball team and as monitor for about two years.and in my spare time , i also love reading ,everyday even i am very busy,i will spare at least one hour to read my favoriate book.
  Through search ,and i know that your is a famous company with excelent management ,so if i have the opportunity to work in the company ,i believe that i will be able to full develop my abilities and obtain strong knowledge ,and the same time i will make valueable contribution to your company.
  So look forward your reply.
  thank you,
  Kumwing Ho
  求职信撰写要诀,特别是英文的,语法是很重要的。不是说MBA不懂得,而是怕细节的没有注意到。
英文求职信 篇7
  求职信的书写诀窍

  1.表现自我的个性及特质
  建议使用积极正面的陈述方式。
  2.文章不可冗长
  控制在总共四段、每段五行以内。
  3.前瞻性的气魄
  具有勇于突破与开创气质的人是外商公司的最爱。因此并不需要对之前辞职的原委做太多的解释。
  4.少用第一人称
  为了避免流于自大与主观的缺点,尽量少用第一人称。
  说明你从何处得知这个工作机会
  这是最基本的部份。一般来说会将媒体广告的名称改用别的字体书写或用底线加以标记。在这个段落中也可加上你的目标。
  强调自己就是最佳的人选
  这是最精华的段落。要依据求才广告的内容,将自己的能力及特色恰如其份的包装起来。不过在工作经验不足的情况下,要避免将自己吹嘘的过分离谱。
  在结尾部份注意应有的礼貌
  最后的部份建议要以感谢对方在百忙之中阅读这份履历,并且"诚挚的期望能得到面试的机会"、"希望有荣幸能为公司效力"这样的句子作为结尾,让主管留下好的印象......
英文求职信 篇8
  gentlemen,
  because i believe
  that my sales background fits me for the position you advertised in thursdays
  newspaper, i ask that you consider my qualification.
  my reason for
  wishing to make a change at this time is that there seems no opportunity for
  advancement in my present position, and i feel that my ability and training, as well
  as my interest in my work, should lead to advancement and a higher salary.
  i am happy to
  refer you upon your request people who can tell you of my work and my character.
  truly yours,
  letter 3
英文求职信 篇9
  一、标题 标题是自荐信的标志和称谓,要求醒目、简洁、庄雅。要用较大字体在用纸上方标注自荐信三个字,显得大方、美观。
  二、称呼 这是对主送单位或收件人的呼语。如用人单位明确,可直接写上单位名称,前?尊敬的加以修饰,后以领导职务或统称领导落笔,如单位不明确,则用统称尊敬的贵单位(公司或学校)领导领起,最好不要直接冠以最高领导职务,这样容易引起第一读者的反感,反而难达目的`。
  三、正文 正文是自荐信的核心,开语应表示向对方的问候致意。主体部分一般包括简介、自荐目的、条件展示、愿望决心和结语五项内容。注意的几点为:
  1、一些跨国公司或港澳台公司,通常会要求应聘者递交英文求职信和个人简历。不过,即使没有明确规定为了引起对方的注意和重视,最好用英文(或其它外文)信件提出对某些职位的申请,往往会比单纯写中文求职信效果更好。所有的英文求职信都应用电脑打印。
  2、求职信的第一句话应该开门见山,让对方尽快知道它的内容。
  3、段落要短,句子不宜很长,长的段落更易令人生厌。
  4、段落可以加小标题,或是编上序号,使求职信条理分明,层次清晰。
  5、求职信的用词语气应不卑不亢,不能过分客气,也要力求避免无意中伤害他人的尊严。
  6、尽量避免用专业术语或俚语、谚语或典故、地方方言,否则在信息传递上可能会出现周折,甚至引起误会。
  7、求职信不应有错别字,不要使用涂改液或橡皮擦,纸张不要沾上污迹,以示对人的尊重。
  8、最后别忘记签上你的名字。英文信件中本人的亲笔签名,应在打印机打印的姓名拼音的上面。
【【精品】英文求职信范文集合九篇】相关文章:
【精品】英文求职信范文集合6篇12-21
【精品】英文求职信范文集合8篇12-19
【精品】英文求职信集合6篇10-18
【精品】英文求职信范文集合十篇03-13
【精品】英文求职信模板集合7篇07-25
【精品】英文求职信模板集合六篇07-20
【精品】英文求职信范文集锦7篇01-15
【精品】英文求职信范文汇编九篇01-12
【精品】英文求职信范文汇总6篇01-10
【精品】英文求职信范文汇总5篇01-08