有关英文版求职信范文锦集九篇
  日子如同白驹过隙,不经意间,我们找工作的日子已悄悄来临,这时候需要开始写求职信了哦。求职信怎样写才能让人满意呢?下面是小编整理的英文版求职信9篇,欢迎阅读,希望大家能够喜欢。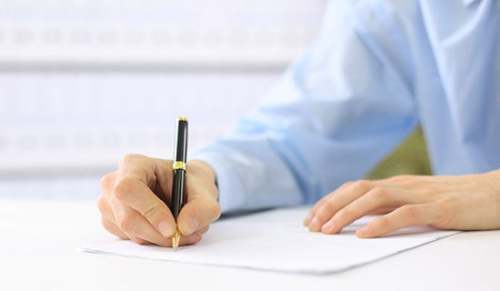 英文版求职信 篇1
dear mr. huang,
  i am interested in applying for a position as a electronic engineer at centurycom. i found the position advertised at the placement office at fudan university. i will graduate in june in electronical engineering and hope to start my career at that time. during the past four years i have had a good deal of academic experience in communication technology. as an active member of the fudan society of computer communication, i learned much about the practical challenges mechanical engineers face each day, and about the strategic significances of collaborating with fellow team members. in my position with excelcom, i was able to test and sharpen the skills i was learning at school and use them on a regular basis. in addition to the responsibilities noted in my resume, i designed an innovative software program that compiled data used by other firms and interpreted the results for the sales division at excelcom.
  my experience of working with others has given me confidence in my interpersonal skills and decision-making abilities, particularly in the area of computer communication. and i believe that making a contribution to a general goal goes much further than simply possessing skills; one must have the ability to work toward a consensus everyone can live with.
  i am available for an interview at any time convenient to you. i can be
  reached by phone at 48202928. thank you for your time and consideration.
  sincerely, pan yanggang
  enclosure: resume
英文版求职信 篇2
Dear sir,
  I am seeking a position as a sales manager, which was advertised in the internet. The position seems to fit very well with my education, experience and career intereste.
  Electronic Business in computer studies, july,20xx, Shandong Foreign Trade Vocational College. My studies have included courses in Electronic Business, Java Servlet Pages , PhotoshopCS2 , Sales Marketing and Internet Marketing. I am highly organized with demonstrared leadership skil in coordinating and motivating workers and in my recent internship at CaiJing Electronic IMP./EXP. Corporation in Jiangsu.
  My background and goals seem to match your requirements well. Some time Ginen,I should have it much better. I am attaching my resume and some writing samples so you may appreciate what I am already able to do, and how much more I should learn to become a full-fledged communications professional. I would greatly appreciate the opportunity to meet with you to discuss how my possible internship with Uniglobal could benefit both your company and myself . I can be reached at 15153220xx617.
  Thank you.
  Sincerely yours,
  Liang Fengfeng
英文版求职信 篇3
  Dear Sir/Madam:
  I will be graduating from Graduate School of Suzhou University this year with a M.S. degree. My studies have included courses in textile chemistry and dyeing and finishing.
  During my education, I have grasped the principals of my major and skills of practice. Not only have I passed CET-6, but more important I can communicate with others freely in English. My ability to write and speak English is out of question. Besides, I am familiar with computer software including words, Excel and Power Point. I feel that I am competent to meet the requirements.
  I would appreciate your time in reviewing my enclosed resume and if there is any additional information you require, please contact me. I would welcome an opportunity to meet with you for a personal interview.
  With many thanks,
  yours
  xx
英文版求职信 篇4
  尊敬的领导:
  您好!Hello!
  首先请允许我向您致以真诚的问候和良好的祝愿!衷心的感谢您在百忙之中翻阅我的这份材料,并祝愿贵单位事业欣欣向荣,蒸蒸日上!
  First please allow me to extend the sincere regards and thegood wish to you! Heartfelt thank you in spite of being very busy toglance through my this material, and wishes the expensive unitenterprise to be prosperous, progresses day by day!
  我是中山大学电子信息工程专业20xx届毕业生,近期获知贵公司正在 招聘 人才 ,我希望能有机会到贵公司工作。
  I am 中山大学 electronic information project specialized 2,007 sessionsof graduates, in the near future learned your firm is advertising forthe talented person, I hoped can arrive has the opportunity to yourfirm work.在校期间,我勤奋学习专业知识,并为其投入了巨大的热情和精力.在认真学习课本知识的同时,我积极参加校内外的实践活动,并获得了一些成绩。如单片机开发设计、PCB Layout以及网页设计等方面。大学四年让我的 英语 水平有所进步,并顺利的通过了国家 英语 六级考试,具备了一定的听、说、读、写能力,有阅读专业文献的英文功底.
  In school period, I diligently study the specialized knowledge, andinvested the huge enthusiasm and the energy for it While earnestlystudies the textbook knowledge, I positively participate in inside andoutside the school practice, and has obtained some result. 我知道得很清楚,"只有往往有机会准备的头脑。"在学校里,我抓住一切机会学习各方面知识,训练能力的各个方面的现代社会对创新人才培养的.需要。我到达English6,计算机通过国家,在努力学习专业知识的同时,我有一个广泛的哲学、法律、文学、经济学等领域,完成经济领域以外的其他专业课程和辅修英语,贸易的
  I know very well that "only tend to have the opportunity to prepare the minds." In school, I seize every opportunity to learn all aspects of knowledge, training of all aspects of their ability to own a modern society towards the needs of innovative talent development compound. I reached the English6, the computer 2 through national, Expertise in the effort to learn at the same time, I have a broad range of philosophy, law, literature, economics and other fields, to complete a professional other than the economic field and more courses and a minor in the trade in English,我渴望学有所用,渴望自己的知识能够得到实践的检验,更憧憬实践能够丰富我的工作经验和能力的美好未来。
  My hope study has uses, to long for own knowledge can obtain thepractice the examination, looked forward to the practice will be ableto eich my work experience and the ability glorious future.
  "长风破浪会有时,直挂云帆济沧海",我真诚地希望加盟贵公司,我定会以饱满的热情和坚韧的性格勤奋工作,与同事精诚合作,为贵单位的发展尽自己的绵薄之力。
  "The great ambition can sometimes, directly link up the cloud sail toaid the sea", I sincerely hoped alliance your firm, I surely can by befull warm and the tenacious disposition diligent work, with colleague精诚 cooperation, for the expensive unit's strength of developmentown meagre strength.
  随信附上 简历 和其他材料一份,如需更深了解,期盼您的 面试 !
  Along with letter enclosed resume and other material, if must a deeperunderstanding, hope for your interviewing!
英文版求职信 篇5
Dear Sir or Madam,
  I'm writing to you to apply for the post of Manager in the market department I've read your advertisement for the position of marketing Manager in the newaper. I'm interested in the post and hope to have the chance to join you in the future.
  I'm a graduate from Zhongnan University of Finance and Economics. Undoubtedly, a manager in marketing department needs all kinds of qualifications such as netanizing ability, creative ideas and team irit. It happens that I major in marketing and thus have comprehensive knowledge needed in exploring market. In the second place, I'm a quite cooperative person and welcome all chances to work with a team. I'm sure team irit is something essential to marketing work. Last but not the least, as an ex-chairman of student union in a famous university, I have rich experience of netanizing all kinds of activities, which will benefit my work. Besides, I'm so easygoing and can make friends easily that I'm very popular with my classmates and teachers.
  If you're interested in my application, please contact me by my mobile phone number 38****3853. I'm looking forward to your prompt reply.
  Sincerely yours,
英文版求职信 篇6
  dear sir or madam,
  your recruiting advertisement for overseas trainee on www.w.com is of great interests to me. with a sound educational background – two master degrees awarded by university of wollongong australia and one bachelor degree awarded by nanchang institute of aeronautical technology, china - and a keen desire to be a part of a professional firm, i am submitting my resume and wish to apply for the position referred above.
  in addition to my academic excellence, my various aptitudes displayed in extra curriculum activities combined with fluent english ability as well as proficient it skills prepare me a qualified candidate. i hold the belief that i will make positive contribution to your company.
  thank you for your time and consideration and i am looking forward to becoming an integral member of your motivated team and would appreciate your evaluation by granting me an interview.
  with enthusiastically personal regards.
  sincerely yours,
英文版求职信 篇7
  Dear XX,
  Hello!
  I was very glad to see the recruitment books of your hospital from the campus recruitment inspiration column. Thank you for giving me the opportunity. I know your hospital is a comprehensive strength of the large hospital, need to be very strong ability of talented person, confident but I have enough ability can be competent for your hospital pharmacists' position, sincere thank you very much to your time to browse my cover letter.
  I am XX major XX major of XX college. I am about to graduate. XX college is not famous university, but it is the medical talent training base in our country, it with rigor, at the party, in such a learning environment, whether in knowledge ability, or in terms of personal diathesis, I benefit a lot.
  The school for three years, in the strict education of teachers and personal efforts, I have a solid professional knowledge, comprehensive control of medical knowledge and skills, made a major breakthrough, successfully acquired the apothecary "qualification certificate.
  If I can serve in the hospital again, I will do my best to contribute to the hospital. Make full use of I bear hardships and stand hard work spirit and solid professional knowledge, win honor for our university hospital, I love the job, more love in your hospital, eagerly hope under your leadership, to the glorious position, and give me a chance to show themselves, I'll use performance to prove their ability.
  Finally, whether you choose me or not, I hope you will accept my sincere thanks.
  I wish you good work and good health!
英文版求职信 篇8
  A Useful Glossary for Personal Data
  A Useful Glossary for Personal Data(个人资料常用词汇)
  name 姓名 in. 英寸
  pen name 笔名 ft. 英尺
  alias 别名 street 街
  Mr. 先生 road 路
  Miss 小姐 district 区
  Ms (小姐或太太) house number 门牌
  Mrs. 太太 lane 胡同,巷
  age 年龄 height 身高
  bloodtype 血型 weight 体重
  address 地址 born 生于
  permanent address 永久住址 birthday 生日
  province 省 birthdate 出生日期
  city 市 birthplace 出生地点
  county 县 home phone 住宅电话
  prefecture 专区 office phone 办公电话
  autonomous region 自治区 business phone 办公电话
  nationality 民族;国籍 current address 目前住址
  citizenship 国籍 date of birth 出生日期
  native place 籍贯 postal code 邮政编码
  duel citizenship 双重国籍 marital status 婚姻状况
  family status 家庭状况 married 已婚
  single 未婚 divorced 离异
  separated 分居 number of children 子女人数
  health condition 健康状况 health 健康状况
  excellent (身体)极佳 short-sighted 近视
  far-sighted 远视 ID card 身份证
  date of availability 可到职时间 membership 会员、资格
  president 会长 vice-president 副会长
  director 理事 standing director 常务理事
  society 学会 association 协会
  secretary-general 秘书长 research society 研究会
英文版求职信 篇9
  Dear Ms. Brown,
  Finance, Inc. was listed on Cleveland University's career webpage for summer internships. I believe that Finance, Incs summer internship is an ideal opportunity for students.
  As a junior at Cleveland University, I am learning about the technical side of accounting through a rigorous accounting course load. In addition, I am learning to be a team player and to communicate effectively with people from diverse backgrounds. For example, in my marketing class, I did a group presentation on Starbucks. We had one week to evaluate Starbucks financial position, future opportunities, and recommend a strategy for Starbucks to compete well against Caribou Coffee. Working with group members that have conflicting opinions was quite challenging, exciting, and ultimately rewarding for me. Likewise, projects that I have completed at Creative Solutions Inc., and the Cleveland Municipal Water District further enhanced my accounting skills as well as offered insights into different aspects of the business world. My responsibilities included bookkeeping for thousands of dollars. At Finance, Inc., I would also like to make a contribution by using my outstanding analytical skills and be challenged to work to my potential by working with diverse clientele. In addition, I look forward to understanding more about Finance, Incs role in business.
  I respect Finance, Inc's excellence in quality and support and believe that I can meet these standards as a summer intern. I want to be challenged and learn firsthand about business. I am looking forward to further discussing the challenges and rewards of working for Finance, Inc.
  Thank you for your consideration.
  Sincerely,
【有关英文版求职信范文锦集九篇】相关文章:
英文版求职信范文锦集八篇03-30
关于英文版求职信范文锦集五篇04-07
关于英文版求职信范文锦集九篇04-05
求职信英文版03-24
有关英文版求职信模板汇编6篇03-30
有关英文版求职信模板集锦9篇03-30
有关英文版求职信模板集锦六篇03-22
有关英文版求职信模板汇编五篇03-22
有关英文版求职信范文汇编10篇04-07
有关英文版求职信范文汇编5篇04-07