关于英文求职信集锦六篇
  光阴的迅速,一眨眼就过去了,又将迎来自己找工作的生活,这时候需要提前写好求职信了哦。写求职信需要注意哪些问题呢?下面是小编精心整理的.英文求职信6篇,欢迎阅读与收藏。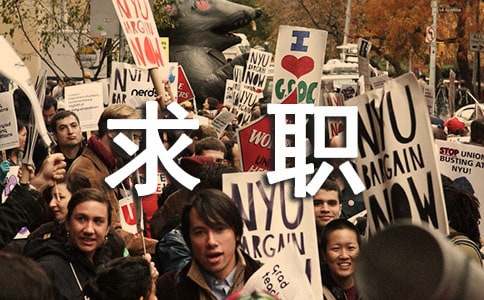 英文求职信 篇1
Dear Sir,

  In June of this year I shall receive my Masters of Science degree from New York University and I am naturally very much interested in securing a position. I believe I can qualify as a communications engineer.
  For as long as I can remember your company has been a standard in the field of business machines and I have followed its developments with keen appreciation. I should like very much to have the privilege of working under the supervision of one of your men not only because I sincerely believe that I can serve you well, but also because it would give me a fine opportunity to grow as a physicist.
  The course in physics I have taken as a graduate have a particular hearing on the development work of your firm. As a physics major I selected my courses with particular emphasis on those dealing with integrated circuits, and have had considerable laboratory work in these fields.
  If you do not have any vacancies at present for which I might be considered, will you please file my application for future reference? I shall be pleased to supply any additional information you may wish and come to your office for a personal interview at any time that is convenient.
  Sincerely yours,
  译文
敬启者:
  我将於今年毕业纽约大学研究所。获得理学硕士后,希望立刻就业,自信能担任通信工程师工作,得知贵单位现正招聘,特拟此求职信自荐。
  就我所瞭解,贵公司為一标準机械商业,对贵公司之发展,本人至為感佩。我希望阁下能赐与為贵公司服务机会,自信能把工作做好,这也许是将使我成為一物理学家之大好机会。
  我在研究所选修之物理课程,特别与贵公司发展工作,有著密切关係。因為我主修的课程是物理学,故我在选修方面,特别强调集成电路,在这方面课程,曾作过很多实验。
  再次感谢您阅读我的求职书,贵公司如需我个人简历,我愿随时提供参考,只要阁下方便,我愿随时前来贵公司应试。
英文求职信 篇2
Dear sir or madam
  hello,im ***,** years old. i have been told by****manager, the business book publishing,****8, with whom i believe you are acquainted,that you are expecting to make some additions to your accounting staff in june.i should like to be considered an applicant for one of these positions. you can see from the data sheet that is enclosed with this letter that i have had five years of varied experience in the book business.the companies for which i have worked have given me permission to refer you to them for information about the quality of the work i did while in their employ. my work was in the credit department and in the accounting department in both companies,with some experience also in inventory control. in both positions,i have been assigned with the daily office administration.the courses taken at central commercial and the*******college specifically prepare me for doing the accounting required in your department. i hope that you will give me an interview at some time convenient to you.if there is further information that you wish in the meantime,please let me know.i can always be reached at the address given at the beginning of this letter. very truly yours,
***
英文求职信 篇3
  Beloved leaders:
  Hello!
  First of all, I sincerely appreciate your taking the time in his busy schedule to read my letter of the ordinary job-seekers. Ordinary job in this letter you will see I am a true.
  I am a University School of Management graduates, the school is the financial management professional, as a result of the baptism of four years, I have a solid theoretical foundation for knowledge and professional skills. In "learning to be, keep Atsuyuki; learning to do, entrepreneurial success" motto to live for four years has given me a lot of people doing things in knowledge.
  While studying at the school, in addition to my master the theoretical knowledge of the profession, but also of other elective courses, take full advantage of after-school time and school library resources, extensive knowledge of drawing a large number of extra-curricular. In their continued efforts, the top academic performance, has won various honors in rating schools, the state scholarship. At the same time to participate in the school orchestra, playing musical instruments to learn, appreciate the art of washing people, enrich their college life.
  I just want to set foot on as a community college graduates, to work or lack of life experience may make you hesitate, but ask you to believe that my ability and confidence. I have been convinced that the "not only can not unexpected." I hope you can give me a chance, your recognition will be the glory of my life!
  Again, thank you for reading my cover letter, no matter the outcome, please accept my heartfelt good wishes! I wish you successful work!
  Sincerely
  Salute!
英文求职信 篇4
Dear leaders:
  Hello!
  Thanks to his busy schedule in my reading自荐信down, thank you! I am 05 xxx Guangdong Medical College graduates of professional, medical industry, with unparalleled vision system through a three-year study and practice, I have laid a more solid theoretical foundation for the professional to cultivate a strong self-learning ability , good teamwork spirit and pragmatic work style. Simple, stable, exploration, innovation is my character.
  Three years of university life, so I was a good learning atmosphere, and continuously learn from the medical knowledge, and actively participate in social practice, and enrich and improve themselves, not only clinicians with a necessary quality, and a one-time, through the National College English four examinations, two computer exams, the school won a number of occasions, second-class scholarship, and was named the Academy students and the outstanding members of Miyoshi. During the internship, I was able to learn the theoretical knowledge and clinical practice, positive thinking, positive hands-on experience, a better understanding of disease awareness and understanding of, cultivate a good clinical way of thinking, so I am master of all clinical departments of basic medical technology, the various sections of the common and frequently-occurring disease can make the correct diagnosis and treatment. Strong interest in learning, a strong sense of responsibility, ability and strong hands, so I got the higher-level doctors alike, but also my confidence in the direction of future work.
  On this basis, I also pay attention to the quality of integrated education and training of their own expertise. From freshman year, I would study hard after school hours in the computer operating system to master Windows98/XX/xp of Word, Excel, Office and other office software applications free, fully utilize network resources, in order to study the creation of cutting-edge medical knowledge good conditions, I have a master Frontpage, Dreamweaver, Fireworks, Flash, Photoshop and other web pages related to software production, and independent producers of their own personal home page (). In addition, the construction of my LAN's also quite familiar with, I believe I will for your organization's digital information platform for the construction of the business to make its own contribution.
  To knowledge in the pursuit of knowledge is the life I have the same creed. I firmly believe that: the needs of your organization is a complex, creative talent, and I are firmly in this direction to forward.
  Distinguished leadership of the employing units, I have done to society, fully prepared to meet challenges. I believe that the support of you, I will and the leadership of your unit, the white sea Ji Yun-Fan, sometimes brave the wind and waves!
  Sincerely,
  Salute!
英文求职信 篇5
  Dear Sir or Madame :
  I am writing in response to your ad in the zhaopin.com for a position listed as junior middle school English teacher .I believe my stable-based English knowledge and abundant experience make me an excellence candidate for this position.
  I graduated from Zunyi Normal College and I nearly spent 12 years on the elementary and comprehensive study, then 4 years on the major study of English .Especially through the 4 years' English study, I have gained in-depth knowledge of many English subjects which include Integrated skills of English, Pronunciation and Intonation of English, Oral English, Extensive Reading ,Courses in English literature, English Writing, Listening , Translation, Course in English Grammar, Linguistics, etc.
  Concerning my related experience, I had been employed as a part-time teacher in the foreign language training school for elementary and junior middle school students more than one time .In those position ,I not only taught students English (including Oral English, Grammar, Pronunciation, etc.) but also in charge of them. Thanks to such experience, I learned how to use a comprehensible way to explain complicated problem, and develop superior interpersonal skills between teacher and students and among colleagues.
  I plan to use my employment in the English teaching field and make good use of what I have learnt about English. To be a teacher is my dream throughout the first 21 years.
  Enclosed is a resume that provides more details about my background. I am very excited by an opportunity such as the one you advertised. Though I am in short of experience in some special field, I am ready to seize the chance to test myself. I am
  young, energetic and eager to learn something new and challengeable, I am willing to study harder than others, and absorb others' strengths to make up for my shortcomings. I sincerely hope I could do a favor to your school.
  May you and your school a more promising and prosperous future!
英文求职信 篇6
  Dear Sir,
  Four years as a senior clerk in sales department of the New World Products Company have, I believe, given me the experience to qualify for the job you advertised in Thursday's newspaper.
  Since xxxx I have been responsible for all office details in the administration of sales, including writing much of the correspondence. In the course of my work, I have become familiar with the various sales territories, and have also in my spare time experience of handling business problems other than my proper sphere.
  The years before I was employed at the New World, I was a secretary for Long Brother, an accounting firm. There I became familiar with accounting terms and procedures.
  I was graduated at Wah Yan College, in June xxx. I am twenty-five years of age and single.
  I am leaving my present position because I can use my capabilities more fully in a position with wider scope. My present employer knows of my ambition and is helping me to find a new place.
  May I see you at your office to tell you more about myself and show you just how well I can do the work you require.
  Yours faithfully,
【关于英文求职信集锦六篇】相关文章:
关于英文求职信集锦五篇10-07
关于英文求职信集锦10篇10-06
关于英文求职信集锦七篇12-03
关于会计英文求职信集锦五篇10-29
关于英文求职信范文集锦八篇01-24
关于英文求职信模板集锦七篇01-20
关于英文求职信范文集锦六篇12-11
关于会计英文求职信集锦十篇11-20
关于会计英文求职信模板集锦九篇11-11