【热门】英文求职信汇编6篇
  日子如同白驹过隙,我们找工作的时间越来越近,此时此刻需要开始写求职信了哦。为了让您不再为写求职信头疼,以下是小编帮大家整理的'英文求职信6篇,供大家参考借鉴,希望可以帮助到有需要的朋友。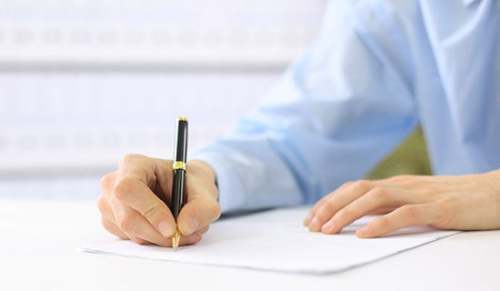 英文求职信 篇1
  may 13,20xx
  p.o. box 36
  biit university
  beijing,china 100000
  dear sir/madam:
  now and then corporations send out feelers for just the right type of creative person. this person must fit very specific criteria. usually, after all is said and done, the corporation wants a business person who can manage, create and communicate. a seasoned professional who's been around for a while.
  if you've been looking for this rare combination of business savvy and design expertise, my background might interest you:
  ten years of working experience. solid background in the management of creative up-and-comers.
  know new technologies that show instant profit, such as cad/cam.
  this is but a brief summary of my abilities. and there is much, much more to share.i feel i have strong marketable skills in which you would be interested. please contact me if you would like to hear and see more.
  with many thanks,
  huang yan
  room 212 building 343
  tsinghua university,beijing 100084
  ms. yang:
  i was referred to you by mr. zhang, a partner with your beijing office, who informed me that the shanghai office of your company is actively seeking to hire quality individuals for your auditor program.
  i have more than two years of accounting experience, including interning as an auditor last year with the beijing office of cccc. i will be receiving my mba this may from tsinghua university. i am confident that my combination of practical work experience and solid educational experience has prepared me for making an immediate contribution to your company. i understand the level of professionalism and communication required for long-term success in the field. my background and professional approach to business will provide your office with a highly productive auditor upon completion of your development program.
  i will be in the shanghai area the week of april 16. please call me at 136001216901 to arrange a convenient time when we
  may meet to further discuss my background in relation to your needs. i look forward to meeting you then.
  sincerely,
  gao jing
英文求职信 篇2
  april 13,20xx p.o. box 36 tsinghua university beijing,china 100084 dear sir/madam: your advertisement for a network maintenance engineer in the april 10 student daily interested me bacause the position that you described sounds exactly like the kind of job i am seeking. according to the advertisement ,your position requires top university,bachelor or above in computer science or equivalent field and proficient in windows nt4.0
  and linux system. i feel that i am competent to meet the requirements. i will be graduating from graduate school of tsinghua university this year with a m.s. degree . my studies have included courses in computer control and management and i designed a control simulation system developed with microsoft visual interdev and sql server. during my education, i have grasped the principals of my major and skills of practice. not only have i passed cet-6, but more important i can communicate with others freely in english. my ability to write and speak english is out of question.
  i would appreciate your time in reviewing my enclosed resume and if there is any additional information you require, please contact me.i would welcome an opportunity to meet with you for a personal interview. with many thanks, wang lin
英文求职信 篇3
  Dear Sir or Madam:
  I am writing in response to the advertisement you placed in the Sunday paper for a sales manager in your company. Your company has a reputation for producing high-quality products like Mandolin network system. I am interested in joining such a professional organization.
  As you can see from the enclosed resume, my previous work in an export company has provided me with lots of opportunities to contact all kinds of customers and suppliers home and abroad. Across communicating with them, I have got very familiar with the international trade and the current market. Besides, my educational training at university concentrated also on international trade which equipped me with a solid foundation in sales and trade.
  As such, I believe that my service could be of great benefit to your company in terms of customer relation and new business connections.
  I hope to have an opportunity to meet your human resource manager in order to let you know more about me. I enclose a resume and could be available for an interview at your convenience. Looking forward to hearing from you and thank you for your consideration.
  Sincerely yours,J.S. Wu
英文求职信 篇4
Dear Sirs,
  Having seen your advertisement in Beijing Evening News of August 6th for a salesman in the Electronic Device Department of your company, I'm very interested in the job and I feel I'm qualified to meet the requirements. Therefore, I'm enclosing a resume together with a reference from my supervisor.
  As you can see, I once worked in the Electronic Department. So I am familiar with different kinds of electronic devices. I have worked more than once as a salesman in some stores during my previous vacations. Besides, I'm very patient and friendly in nature. I'm confident that I shall be suitable for the kind of work.
  If you need any further information, I shall be very pleased to supply it.
英文求职信 篇5
  Dear Sir,
  In response to your advertisement in the newspaper of January 15, I wish to apply for the position of (secretary, accountant, clerk, salesman, etc). I am twenty-five years old and a graduate of ____ college. My experience in this line of work includes six years as an assistant accountant with the ABC Company. The reason for leaving my present employment is because they are closing their office. I am enclosing my resume together with my photo, and believe that they may be found satisfactory. With respect to salary, I shall expect HK$5,000 a month. I assure you that if appointed, I will do my best to give your satisfaction.
  Very truly yours,
  xx
英文求职信 篇6
Dear Sir/Madam:
  Please consider me for your sales management program。I'm one of selling ideas,concepts and programs,and of motivating myself and others to realize our potential.
  Attitudes predict behavior---or so goes the saying in sales。If this holds true,I'm sure to be as successful in sales management as I'm in my college endeavors.My unceasing optimism ,self-determination and ability to set goals have allowed me to achieve academic and personal objectives.
  Because of my "can do"attitude,sales will provide the challenge and opportunity to continue my successful history of setting and achieving goals.Please allow me the opportunity to elaborate on how my background predicts sales success.I guarantee you'll be providing your corporation with an outstanding sales management.Thank you for your attention.
  Sincerely,
  Tomas
【【热门】英文求职信汇编6篇】相关文章:
【热门】英文求职信汇编五篇10-31
【热门】英文求职信02-23
英文求职信【热门】12-15
【热门】英文求职信模板汇编7篇11-15
【热门】英文求职信模板汇编十篇02-14
【热门】英文求职信范文汇编8篇02-10
【热门】英文求职信模板汇编七篇01-16
【热门】英文求职信范文汇编九篇01-03
【热门】英文求职信范文汇编七篇03-04
【热门】英文求职信范文汇编十篇02-22