精选英文求职信集锦九篇
  时间就如同白驹过隙般的流逝,又到了寻求新的工作机会的时候,需要为此写一封求职信了哦。你真的懂得怎么写好求职信吗?下面是小编帮大家整理的英文求职信9篇,欢迎阅读,希望大家能够喜欢。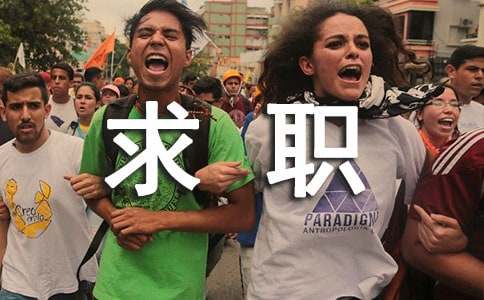 英文求职信 篇1
  IT公司实习的英文求职信
  这是一份计算机专业的毕业生求it公司实习机会的'英文求职信。文中不仅突出了自己的专业技能,还表明了实习目的。
  dear sirs,
  i am a senior of computer science in shanghai university of
  technology。 i would like to work as an intern for an it company。 as i have a wide interest in computer, i will do whatever job assigned to me, in software development or in technical support。 one of my strong points is that i am able to work conscientiously under great pressure。 the more challenging my task is, the better。
  my main purpose is just to put into practice what i have learned from the classroom in the past few years and to learn about my own ability in practical work。 i do not take remuneration into
  consideration。
  i am enclosing a resume and looking forward to hearing from you。 yours respectfully,
  wang guoqing
英文求职信 篇2
  Dear Sir,
  I would like to inquire about the position of laboratory research assistant in the field of biochemistry that you advertised in JobsPower.com on July 10.
  I am twenty-eight years old. In 1996 I received my MSc in Boichemistry from ABC University. As a student I took many Chemistry and Biology courses such as General Chemistry, Organic Chemistry, Physical Chemistry and Biochemistry.
  As I was a graduate student, I worked as a research assistant for Dr. Wang Williams, Professor of Biochemistry, BBC California. During this time I assisted Dr. Wang in basic research concerning the genetic generation cycle in metabolism. I can supply you with a copy of the resulting paper at your request.
  Since my graduation I have been employed by MMC University as an assistant professor. I have continued my research in this time, and several of my papers have been published in Paris. My immediate superior, Dr. William Smiths, has indicated his willingness to provide me with a reference.
  I feel that I have sufficient education and experience in my
  background to fulfill the qualifications for your position. I hope that you will schedule me for an interview at your earliest convenience.
  Sincerely yours
英文求职信 篇3
  Samples: Cover Letter 1
  January 3, 20xx
  747 Linden Way,
  Winnipeg, Manitoba
  R2B 3A5
  Norman White P.Eng.
  Area Manager
  Perter Kiewit Sons Co. Ltd.
  11211-215 Street
  Edmonton, Alberta
  T5S 2B2
  Dear Ms. Carlyle,
  I heard about the marine Environment Technologist opening at your organization through Dr. Richmond, Director of Natural Resources at the Freshwater Institution in Winnipeg. As Dr. Richmond described it, the position requirements and my qualifications seem to match up perfectly.
  I recently graduated from the University of Manitoba with a Bachelor of Science majoring Zoology. I have a strong interest in fish biology and management and have taken numerous courses in these area. I have gained practical experience in this field through summer employment with Oak Hammock Marsh as an interpreter. As a Research Assistant with Waterworks International, I was responsible for the completion of a comprehensive inventory of common fish and development of a field identification manual. I am familiar with the techniques and equipment used for sampling vertebrates and have experience using a 35-mm camera.
  I am a reliable, punctual, and motivated individual. I am confident my skills will meet your equipments and will contact you on October 13th to discuss this matter. Thank you kindly for your time.
  Regards,
  (Bill Zooman)
  (177w)
英文求职信 篇4
  Gentlemen,
  I wish to apply for the position of editorial assistant advertised in JobsPower.com.
  I have had considerable editorial experience and am familiar with proofreading, rewriting, and production, as well as the more creative aspects of this type of work. I should like to summarize briefly my experience:
  19xx-19xx
  For two years I was employed as managing editor on an ABC weekly newspaper having a circulation of about 30,000. Here I did a great deal of original writing, wrote the headlines, and worked directly with the printer in setting up the paper.
  19xx-19xx
  Previous to 1978 I worked as assistant editor in Baker International Guide Book, where my duties consisted chiefly of reading proof and rewriting, as well as composing lengthy articles and shorter item.
  19xx-19xx
  I also worked as assistant editor on a trade journal in the food field the Dairy Weekly, where my tasks were similar to those described above, but also included a great deal of interviewing and personal contact with members of the industry.
  All in all, I have had eight years of business experience, and am familiar with all phases of office routine. At present I am employed as promotion manager on an advertising magazine, the future of which is so uncertain as to make its employees desirous of securing a foothold in a more firmly established organization.
  I was graduated from Boston College in June, 1979 with honors, after six years of attendance in the evening session, while working full-time during the day. I majored in English literature and am continuing my studies in this field at present at Thornton University, where I expect to receive my master's degree in June, 1985. At Boston I was for two years managing editor of the evening session newspaper.
  As much as I should like to join your organization, it would not be advisable for me to do so for less that $9,500, which is my present salary.
  I shall be able to call for an interview at your convenience, and shall be able to supply any necessary or examples of my previous work.
英文求职信 篇5
  April 13,20xx P.O. Box 36 Tsinghua University Beijing,China 100084 Dear Sir/Madam: Your advertisement for a Network Maintenance Engineer in the April 10 Student Daily interested me bacause the position that you described sounds exactly like the kind of job I am seeking. According to the advertisement ,your position requires top university,Bachelor or above in Computer Science or equivalent field and proficient in Windows NT4.0 and LINUX System. I feel that I am competent to meet the requirements. I will be graduating from Graduate School of Tsinghua University this year with a M.S. degree . My studies have included courses in computer control and management and I designed a control simulation system developed with Microsoft Visual InterDev and SQL Server. During my education, I have grasped the principals of my major and skills of practice. Not only have I passed CET-6, but more important I can communicate with others freely in English. My ability to write and speak English is out of question. I would appreciate your time in reviewing my enclosed resume and if there is any additional information you require, please contact me.I would welcome an opportunity to meet with you for a personal interview. With many thanks, Wang Lin
英文求职信 篇6
Dear Ms. Anderson:
  I am seeking a position in data processing management and have enclosed my resume for review against your current requirements.
  My background in data processing includes programming, systems analysis, project management, data base administration and MIS department management.
  For the past seven years, I have been the Information Center Manager at Wilson Corporation in Gorham, New Hampshire, responsible for planning, budgeting, organizing and managing the daily operations of this department. In addition to supporting all end user computing on the IBM 3090 mainframe and personal computers, I am also responsible for evaluating PC hardware and software, establishing PC standards and policies, consulting in the design of PC applications and maintaining both mainframe and PC security controls.
  I am seeking a position in the $65,000 to $70,000 range and have no relocation restrictions.
  Should you have an appropriate opening in your operations, I would appreciate the opportunity to meet with you and the members of your staff to see how my qualifications might align with your requirements. Thank you for your consideration, and I look forward to hearing from you shortly.
  Very truly yours,
  Richard R. Reardon
英文求职信 篇7
Dear Mr. Cavendish,

  I saw your advertisement in the local paper this evening,and I wonder if you would consider me for a job as a waiter this summer.
  I am seventeen years old and at present I am studying English and economics. When I leave school, I hope to take a course in hotel management. During the school holidays last summer, I worked as a waiter at the Central Hotel. The headwaiter there, Mr. Macintosh, will be pleased to send you a recommendation for me.
  I would prefer to work in your hotel in Filey because it is near my home. However, if there isn't any job there for me, perhaps you could consider me for the Scarborough Hotel.
  I would be pleased if you will send me information about the pay and conditions of the job to be offered. I will be free to begin work in the fourth week of July when the school holidays start.
  Yours sincerely,
  Peter Tuck
  [168 words]
英文求职信 篇8
dear sir or madam,
  my name is qiu job. i am currently a graduate of nanjing university of posts and telecommunications in early july of XX. i am writing to express my interests in your company. the job sounds particularly interesting. it is precisely the kind of work i have wanted to do for many years. my experiences obtained from inside or outside university thus far have, i think, given me the attitudes and the understanding that would enable me to learn the details of the position you are in demand.
  if an ability to take direction well, and to carry out orders faithfully, is important to you, then i may be the good person for the job you've advertised.
  i'd very much appreciate the chance to talk to you, and to get your opinion on whether my background and qualification would be suitable for the job you offer.
  i can be reached by telephone at 86-138-0903-0984 or you can also send email to zhanggang0519@XXXX.com .
  thank you for your time and consideration.
  sincerely yours,
  zhang gang
  july 13, XX
英文求职信 篇9
Dear Sir:
  I am securing a job. Not any job with any company, but a par- ticular job with your company only.
  Your organization is more than just a business house. It is an institution in the minds of the local public. It has a reputation for fair play and honesty with both employees and customers alike.
  For the past four years, while specializing in international trade at college, I have had a secret ambition to work for your organization. I will graduate in July this year. As I write this letter, I do not know that there is an opening at present in your company. I am enclosing my qualifications which prompt me to make application now.
  I would be very happy to work under your supervision if it is possible. Thank you very much for your kind attention. Please send me an answer at your earliest convenience. Respectfully yours,
【精选英文求职信集锦九篇】相关文章:
精选英文求职信模板集锦5篇11-19
精选英文求职信范文集锦5篇02-07
【精选】英文求职信范文集锦6篇01-21
精选英文求职信范文集锦8篇12-19
【精选】英文求职信范文集锦5篇12-04
英文求职信范文精选03-25
英文求职信(精选5篇)02-14
英文求职信(精选2篇)12-14
规范英文求职信范文精选03-25
会计英文求职信(集锦3篇)04-08