【必备】英文求职信模板5篇
  光阴的迅速,一眨眼就过去了,我们又将面临求职找工作的挑战,此时此刻需要开始写求职信了哦。求职信要怎么写?想必这让大家都很苦恼吧,以下是小编收集整理的英文求职信5篇,希望能够帮助到大家。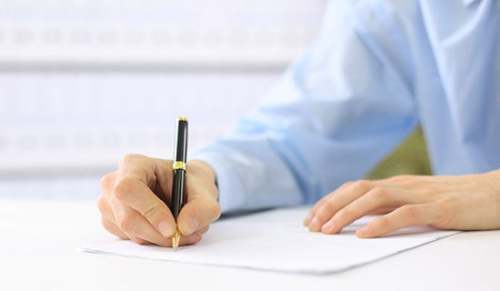 英文求职信 篇1
  1. If you would like to know more about my ability, I can be available for an interview at any time convenient to you.
  倘若阁下愿意接见本人以了解我的能力,我将随时侯教。
  2. If you desire an interview, I shall be most happy to call in person, on any day and at any time you may appoint.
  如贵公司有意面试,本人一定遵照所指定的时日,前往拜访。
  3. Should you entertain my application favorably, I would spare no trouble to acquit myself to your satisfaction.
  假如本人之应征能得青睐而进入贵公司服务,本人必以排除万难之决心,为贵公司工作,以符厚望。
  4. You will find enclosed a testimonial from the President of the
  University who has kindly offered to provide you with any further details you may require.
  关于阁下对我个人所需之详细材料,可从所附的大学校长推荐函中获悉。
  5. I hope that you will give me an interview at some time convenient to you.
  敬希阁下抽空惠予接见。
  6. If there is further information that you wish in the meantime, please let me know. I can always be reached at the address given at the beginning of this letter.
  若需有关本人的.更详细资料,请按本函上方所载地址惠函示知。
  7. I shall be able to call for an interview at your convenience and shall be able to supply any necessary or examples of my previous work.
  只要阁下时间方便,我随时都可晋见,并随时提供我过去工作情况的所有资料。
  8. I am happy to refer you upon your request people who can tell you of my work and my character.
  如阁下要求提供查询人,以便了解我的工作情况和性格,我乐于满足阁下要求。
  9. I would be very happy to work under your supervision if it is possible. Thank you very much for your kind attention. Please send me an answer at your earliest convenience.
  如能为贵公司效力,本人将不胜荣幸。阁下耐心读完这篇申请,本人至为感激,并请尽速惠函示知。
  10. I believe that I can fulfill the requirements in your company. I hope you will be able to place me somewhere.
  我相信我可以担任贵公司的任何工作,如蒙录用,愿意随时接受阁下指派。
  11. I wish to assure you that, if successful, I would endeavor to give you every satisfaction.
  如蒙不弃,惠予录用,本人将尽最大努力工作,争取诸事满意。
  12. Thank you in advance for your consideration and courtesy. 承蒙阁下的关怀和礼遇,至此表示感谢。
  13. I am enclosing a brief resume as you requested. Please let me know if you want an interview.
  随函附寄简历表一份,望能通知能否有机会见面。
  14. I would be pleased if you would grant me an interview at you convenience.
  如贵公司愿意接见,我随时候教。
  15. Trusting you will give my application kind consideration and hoping to hear favorably from you at your convenience.
  敬请贵公司对本人之应征惠予考虑,并请赐函告知。
英文求职信 篇2
dear leaders:
  hello! thank you for your busy schedule can benefit in relation to this letter, thank you to give young people a positive opportunity for a display of their own!
  my name is wang, a graduate of xxx school xx province xx health professional, my knowledge comes from three places, one on campus; second hospital; the third is social.
  the three-year period in school, i learned from all aspects of the strict demands on themselves. know: knowledge is the future. as the 21st century student, i did not get rid of the learning theory in schools, often to social theory with practice, from personal practice to improve their comprehensive ability, i believe i can adapt to fierce competition in today's social environment. in particular training in lushan county, henan province people's hospital, let me go to the knowledge and operation of the clinic for a variety of diseases, understanding and care with a more profound understanding of professional knowledge and expertise to operate more skilled and flexible. here, let me gain a lot, so i fell in love with life this sacred mission. this three-year study and training, i learned not only professional knowledge and to improve the overall quality and more importantly, taught me how to behave, i developed a rigorous and pragmatic, innovative individuals seeking knowledge, in their efforts to learn from the expertise at the same time i have been to enrich themselves by their efforts to become a complex society personnel. now, everything is money, as long sailing ship, take your east. i love this sacred cause, to see patients under the care we care to relieve pain and to happily rehabilitation, heart, emotion and happiness. they are happy and warm smile is my greatest happiness, the earnest hope that under your leadership, for the glorious cause of a dedication to my true feelings, and continuous learning in practice and progress. fast-flowing, many talented people. competition in the real world, talent is no exception. i wish to apply ancient, this will have the horses, the horses would like to take your talents, the beginning of my journey of a thousand miles. despite the large number of candidates, i may not necessarily be the best, but i am still very confident. because i will add my strength to speak sincerely, for your organization, dedicated to patients!
  thank you for reading again, looking forward to your good news!
  sincerely,
  salute
英文求职信 篇3
  Dear Sirs,
  Please allow me to apply for the position of office clerk which you advertised in "Yangcheng Evening News" of April 9.
  I am 28 years of age and unmarried. After receiving my B.B.A. from Xiamen University, I worked for three years as an office clerk at China Great Wall Computer Group (Shenzhen) Company.
  In the last two years I have been a secretary to the General Manager of Haicheng Foodstuffs Company, Ltd. in Shenzhen. I am looking for a position of office clerk to increase my experience in business.
  I have a wide knowledge of business and thoroughly experienced in all types of office work. Copies of my testimonials are enclosed, and if you are interested in my application, please give me an opportunity of a personal interview at your convenient date.
  Sincerely yours,
英文求职信 篇4
Dear Sir,
  In respone to your advertisement in the of January 15, I wish to apply for the position of (secretary, accountant, clerk, salesman, etc).
  I am twenty-five years old and a graduate of - college. My experience in this line of work includes six years as an assistant accountant with the ABC Company. The reason for leaving my present employment is because they are closing their office.
  I am enclosing my resume together with my photo, and believe that they may be found satisfactory. With respect to salary, I shall expect HK$5,000 a month. I assure you that if appointed, I will do my best to give your satisfaction.
  Very truly yours
  april 6,20xx
  p.o.box 3
  xx university
  beijing,china 100000
  dear sir/madame,
  your advertisement for a network maintenance engineer in the april 10student daily interested me because the position that you de- scribed sounds exactly like the kind of job i am seeking.
  according to the advertisement,your position requires a good university degree,bachelor or above in computer science or equivalent field and proficient in windows nt 4.0and linux system.i feel that i am competent to meet the requirements.i will be graduating from xx university this year with a msc.my studies have included courses in computer control and management and i designed a control simulation system developed with microsoft visual and sql server.
  during my education,i have grasped the principles of my major subject area and gained practical skills.not only have i passed cet - 6,but more importantly i can communicate fluently in english.my ability to write and speak english is a good standard.
  i would welcome an opportunity to attend you for an interview.
  enclosed is my resume and if there is any additional information you require,please contact me.
  yours faithfully,
  wan long
英文求职信 篇5
  dear mr. director,
  i am currently working on master degree in international commercial law at fu dan university. my supervisor mr. liu mingyu, a well-know professor of law,
  tells me that sfsc specializes in recommending qualified personnel to muti-national companies and suggests that i contact you for recommendation.
  during the two years of studies at fu dan university, i have not only acquired a lot of knowledge of international commercial law, but learned two
  foreign languages as well -english and japanese. moreover, i have published two papers in the university journal on problems that may arise after chinas
  entry to wto. and they have been favorably accepted.
  i am enclosing a resume, copies of my published papers, and professor lius letter of recommendation.
  i sincerely hope you wil introduce me to a famous multi-national company, to which i will dedicate myself.
  truly yours,
  lin xiaolin
【【必备】英文求职信模板5篇】相关文章:
【必备】英文求职信模板集合九篇11-30
【必备】英文求职信模板汇编9篇11-18
【必备】英文求职信模板集锦七篇02-03
【必备】英文求职信模板集锦十篇02-02
【必备】英文求职信模板锦集九篇01-12
【必备】英文求职信模板锦集八篇01-09
【必备】英文求职信汇总9篇11-25
2016经典英文求职信模板03-25
优秀的英文求职信模板03-20
【必备】英文求职信范文七篇12-06